February 1, 2021
By Michael J. Lipson, OD, FAAO, FSLS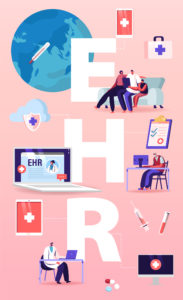 Modern eye care practice is dependent on having all your patient information available at the click of a mouse. This includes Protected (patient) Health Information (PHI), spectacle and contact lens prescription, and other clinical information necessary to provide prompt, personal, and efficient eye care. Relative to myopia management, it is critical to monitor many additional data points and outcome measures to support your prescribing patterns, fee structure, and marketing program. Your electronic health record (EHR) system is the lifeblood of this invaluable source of information. Most practices have an EHR that is customized for them and have become comfortable with it. But, under the 21st Century Cures Act, you are now required to share your EHR information with several other interested parties.
Changes Ahead
The 21st Century Cures Act (Cures Act, not to be confused with the CARES act), signed into law on December 13, 2016, prohibits EHRs and providers from blocking the exchange of information. The Cures Act aims to accelerate medical product development and bring innovations and advances to patients faster and more efficiently. The Cures Act, which went into effect on June 30, 2020, requires EHR vendors to attest that they are "certified" EHR vendors and will not block information flow. As of December 31, 2020, certified EHR vendors must attest they are not information blocking or face financial penalties if they do. Shortly thereafter, these penalties will be enforced on providers too.
So, how does that affect practices involved in the management of myopia and eye care in general? It means the patient is in complete control of their health information. If your patient requests that their data be sent elsewhere, you must have the capability to provide them with electronic access to their data. Your EHR must have the ability to directly, electronically transmit, and receive (not via fax) data straight from and into the patient's electronic record. This includes online prescription requests. Also, the data must be usable without any additional effort on the receiving end. This is where the utility of a registry helps you maintain your data and review detailed analysis.
Using Your EHR for Your Advantage
There are challenges for your practice brought on by the Cures Act. But, with that knowledge, there are ways to use EHR features to your advantage to bill at the highest allowable level, attain more referrals, improve patient care, and achieve better clinical outcomes. Getting usable reporting information from your EHR is dependent on getting the necessary data into your EHR. All EHR's have defined and structured "data fields" (an input box on the screen, i.e., name, birth date, prescription, PD, IOP, etc.). In most medical EHR's, these are relatively standardized and include fields defined by the latest version of the United States Core Data for Interoperability (USCDI) – February 2020 by The Office of the National Coordinator for Health Information Technology.
Unfortunately, in optometry, EHR vendors appear to have created their own unique structured data fields. Some allow practices to customize data fields to suit their needs, while others will employ a "free-form text box" to enter whatever numerical data or text they choose. Creating defined "data fields" can help track information and trends to provide you with tools needed to establish outcome-based prescribing strategies.
New E/M Coding Guidelines
Billing and coding have been a tedious process, allowing you to get paid for your services. New E/M coding guidelines 1,2,3,4, which went into effect on January 1, 2021, make it possible for you to bill the maximum allowable level when you have access to registry data. From the practitioner's perspective, the concept and definition of billing levels have changed. Rather than the traditional strategy and protocol of billing based on time, complexity, and extent of testing, the new E/M billing guidelines define the level of billing based on the number of diagnoses, potential risk factors, and systemic implications. This is where the registry fits into the new guidelines.
Direct messaging 5 facilitates documenting the presence of multiple diagnoses, such as hypertension, elevated lipids, etc., from other providers into your EHR's problem list. These multiple diagnoses raise the case's complexity and allows a higher coding level under the new guidelines. Working in cooperation with other providers to coordinate care also increases the ability to bill at higher levels under the new guidelines. Coordination of care can reduce the potential for future complications via the management of systemic conditions that create ocular complications (i.e., ICD-10 E11.3311 – Type 2 diabetes mellitus with moderate non-proliferative diabetic retinopathy with macular edema, right eye – in addition to the other systemic diagnoses).
Based on registry data, these codes can be validated for mild/moderate/severe, for stability vs. progression, a difference between right and left eye, and increased risk in the presence of other systemic diagnoses. This is a unique opportunity to adapt to the new E/M coding. In summary, the new coding guidelines are designed to encourage providers to document more information (number of ocular and systemic diagnoses), assess the level of risk, and coordinate patient care with other providers to minimize risk. Also, the time spent educating the patient can be used to code at a higher level.
EHR for Myopia Management
With the exponential growth and interest in myopia management, many practices are gearing up to offer these services to attract new patients. As you evaluate how to tap your EHR for patient information for myopia management, be aware that most EHRs do not have dedicated structured data fields critical to managing myopia. For example, topographical information, even if linked to your EHR, is in the form of an image. The numerical data such as SimK's, corneal astigmatism, eccentricity, and other numerical indices are not available for export. Most notably, in myopia management, the axial length needs its own structured field to be tracked. Many other details that aid in myopia management clinical decision-making do not reside in a data field. These include patient information such as: age of myopia onset, parental/sibling history of myopia, hours per day of use of current correction, hours per day spent on electronic devices, and hours per day spent outdoors. Looking forward, we will want to monitor the usage and efficacy of our prescribed treatment. Required data will include mode of myopia management (OrthoK, soft MF, and/or atropine) and details about that treatment such as design/brand, details of lens specifications, dosage, hours of wear per day, days of wear per week.
Having this information will help the practitioner in three ways. First, to objectively assess the efficacy of their clinical decision making in managing myopia progression. Practitioners can evaluate success (in their own office) of one modality vs. another and/or effectiveness with specific age groups, ethnicity, and degrees of myopia. Second, practitioners will be able to show payers their clinical outcomes to establish panel participation and justify levels of reimbursement. Third, armed with your real-time outcomes data, presentation to the patient/parent in your chair can be individualized and used to market to precise demographics. Myopia-related issues can be condensed to attract the parents of children between ages 4 and 18, the developing myopes.
How to Get the Information You Need
Contact your EHR vendor and request they turn on direct secure messaging, which is incorporated in every certified EHR. The goal is for all EHR vendors to use a standardized format of structured fields for myopia management. This will allow smooth and complete data input during your exam. Efforts are underway with EHR companies to establish standardized, structured data fields to monitor myopia, myopia progression, and myopia management.
Once data is entered, you may choose to extract it yourself, which can be time consuming and less productive. You may also use a registry with data-mining experts to automatically extract and analyze your data. A registry can customize your reports and compare your current and prior year's data and your outcomes to other practices or other regions. The registry is specialized in data analytics and can look at data more critically to improve clinical outcomes.
The Power of Data
We are indeed in the age of information. The primary goal of most eye care practitioners is to provide the best service to their patients. Keeping up with care standards, new products, and technology is critical to remain competitive. Equally important is having real-time data and outcome measures from your practice. That data and information are stored in the depths of your EHR. You can enlist a registry's help to mine that critical information while you focus on providing the patients in front of you with the best possible care.
References