sponsored content
October 1, 2021
By Dwight Akerman, OD, MBA, FAAO, FBCLA
Vyluma is dedicated to using its deep expertise to develop novel ophthalmic treatments to address the many global unmet needs existing for patients with refractive errors.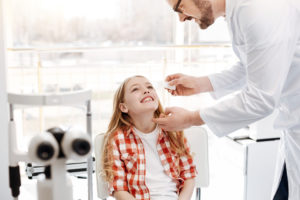 The word "Vyluma" originates from different languages across the globe and carries the meaning to expand and open to light. This reflects the company's goal to serve a global population by providing meaningful and effective pharmaceutical ophthalmic solutions.
I had the opportunity to interview Vyluma executives Navneet Puri, PhD, Founder, Chairman, and CEO, and Raul Trillo, MD, MBA, Chief Commercial Officer, to learn more about the company and its therapeutic focus on the clinical development of ophthalmic treatments for disease states with limited treatment options.
Dwight Akerman, OD, MBA: What was the founding principle and objective behind creating Vyluma as a wholly owned subsidiary of Nevakar, Inc.? 
Navneet Puri, PhD: Vision is critical to quality of life. Poor vision can severely impact one's ability to function independently and enjoy the many beautiful objects around us. At Vyluma, we are developing ophthalmic pharmaceutical solutions that preserve and enhance vision for patients of all ages. Our treatments offer a pharmaceutical alternative to current eye care offerings such as spectacle glasses, contact lenses, or even surgery. Vyluma is dedicated to using its deep expertise to develop novel ophthalmic treatments to address the many global unmet needs existing for patients with refractive errors. Our mission is to enhance quality of life for patients of all ages by improving and preserving vision through non-invasive pharmacologic solutions. Our approach is founded on proven scientific principles, and we strive to develop first-in-class and best-in-class treatments for anterior segment and refractive eye diseases. By founding Vyluma, we become one hundred percent dedicated to this effort and fully committed to the patients we wish to serve.
Dr. Akerman: Please provide an overview of Vyluma's ophthalmic pharmaceutical therapies portfolio of investigational products. 
Raul Trillo, MD, MBA: Vyluma is in the process of quickly developing a robust portfolio of topical ophthalmic medications, which are designed to provide eye care doctors with new therapeutic options for their patients. The Vyluma team invests heavily in ongoing research and is dedicated to bringing meaningful innovation by identifying opportunities that serve the unmet needs of patients with refractive errors. These include conditions such as myopia, presbyopia, night vision disturbance, and hyperopia. Our goal is to bring to market these products efficiently. Our agility is accelerated by our formulation expertise, science-based decision making, and deep knowledge of multiple eye disease states. We identify product candidates by researching and testing currently available drugs, some of which may have never been used before to treat eye conditions. We utilize non-clinical studies and other screening methods to identify potential pipeline products quickly. 
We are evaluating our lead program, NVK002, as a therapy to slow the progression of pediatric myopia. This investigational product has the potential to provide a substantial improvement over currently available treatment options. Atropine is an inherently unstable molecule in solution. Our NVK002 formulation solves this problem, and if approved, it will give eye doctors globally a powerful tool to address the myopia epidemic. 
Dr. Akerman: Please describe the pivotal Phase III clinical trial for NVK002, Vyluma's lead product candidate for slowing myopia progression in children.
Dr. Puri, PhD: After developing our novel, preservative-free formulation of low-dose atropine, NVK002, we worked with the FDA and other regulatory authorities globally to design the CHAMP study. It is a large, multi-center, international study that evaluates two concentrations of low-dose atropine in children between the ages of 3 and 17 years. The study is designed to confirm the safety and efficacy of NVK002 over a four-year treatment period. We will be evaluating multiple efficacy endpoints, including the ability to slow the advancement of myopia as measured by SER and axial length, as well as conducting an extensive safety evaluation. We hope to conclude the safety and efficacy phase of the study in the second half of 2022. 
Dr. Akerman: Is there supporting evidence for the use of low-dose atropine in myopia? 
Dr. Trillo: Low-dose atropine has been studied in multiple clinical trials globally to treat myopia, and the results have been very encouraging. However, Vyluma's CHAMP study will be the first to provide results from a large, rigorous, placebo-controlled, multi-center trial. Based on the currently available evidence, multiple U.S. and international clinician organizations recommend low-dose atropine in myopia management, including the American Academy of Ophthalmology, the American Optometric Association, and the International Myopia Institute. Unfortunately, there is no pharmaceutical eye drop product approved by the FDA for this use. There are other emerging treatment options such as spectacles and multifocal contact lenses for treating pediatric myopia. These alone may not meet the needs of all patients requiring treatment for slowing myopia progression. Emerging evidence continues to demonstrate the benefits of low-dose atropine used in conjunction with other treatments for myopia, such as multifocal contact lenses, orthokeratology, and spectacles. Much additional work is required before low-dose atropine or low-dose atropine in conjunction with other modalities can be recommended as a viable treatment option for children.
Dr. Akerman: What are the challenges of compounded atropine? Describe the importance of an approved formulation. 
Dr. Puri: As previously mentioned, atropine in solution is an inherently unstable molecule. This is especially problematic when making atropine with very low concentrations, such as 0.01%. It is difficult to ensure that the concentration listed on the bottle is the same as the one administered to the child over the entire treatment period. This can lead to variability in response to treatment and inconsistent results when prescribing compounded low-dose atropine.
The choice of additives, buffering agents, and preservatives can affect the safety, tolerability, and efficacy of a medication. In ophthalmic products, low pH can lead to poor adherence due to patient eye discomfort. Viscosity plays an important role in ensuring sufficient residence time of the drug on the corneal surface. Shelf life is a critical consideration to reduce waste and for a product that must be shipped or stored under refrigeration. Many compounding pharmacies may be poorly equipped to formulate high-quality, low-dose atropine consistently. Often, they do not have the resources, and some may not adhere to the same quality standards as those used in pharmaceutical manufacturing. 
For this reason, compounded ophthalmic formulations may have an inconsistent shelf life, dosing, efficacy, and eye comfort that can lead to a negative patient experience and potentially to treatment failure. Benzalkonium chloride (BAK) is an antiseptic detergent frequently used as a preservative in topical ophthalmic medicines to prevent microbial contamination. Preservative-free formulations of low-dose atropine can avoid the toxicities and side effects associated with prolonged exposure to BAK and other preservatives, which include dry eye and chronic corneal irritation conditions. Parents and eye doctors expect and deserve a consistently high-quality, low-dose atropine for the chronic treatment of myopia in their children.
Dr. Akerman: How important is educating children, parents, and other stakeholders about juvenile-onset myopia? What educational tools is Vyluma developing/providing to eye care professionals to help them with this critical task? 
Dr. Trillo: The anatomical changes in the eyes of children with myopia may be permanent, and there is a limited window of time for intervening and treating these children. Therefore, we recognize the importance of communicating to parents the urgency to act on myopia progression as a problem. Historically, they have understood this as just needing a new pair of glasses to see clearly. Myopia that begins early in life has been correlated with an increased risk of myopic macular degeneration, retinal detachment, glaucoma, and cataracts.
Discussing myopia and treatment options with parents and answering their questions can be challenging and time-consuming. To help educate parents, Vyluma has developed MyMyopia.com, which has become an essential source of myopia education. The site has many videos, articles, and infographics to help health care providers to educate parents and patients, which allows them to focus on treatments. As many practices are expanding and starting myopia management, MyMyopia.com has become a valuable resource for information to help eye doctors to educate parents on the importance of myopia management and treatment options available. 
Dr. Akerman: What commercial partnerships has Vyluma established to date? Does Vyluma expect to establish additional commercial partnerships in the future? 
Dr. Puri: Vyluma is developing pharmaceutical treatments to address unmet ophthalmic needs globally. This commitment has been highlighted through our partnerships for NVK002 with Thea in Europe and with Zhaoke in Asia. These are dedicated and successful pharmaceutical eye care companies that are excited to partner with Vyluma to bring an important new therapy for myopia to patients in Europe and Asia.
Dr. Akerman: Thank you, Drs. Puri and Trillo, for sharing your insights on the future of Vyluma and its portfolio of ophthalmic pharmaceutical treatments under clinical development.