September 1, 2022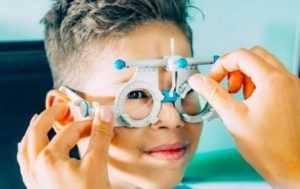 BRIDGEWATER, N.J. — Vyluma has checked off an important step in its Phase III CHAMP (Childhood Atropine for Myopia Progression Clinical Study) clinical trial: the last patient visit of the study.
The CHAMP study has been designed, in collaboration with the FDA, to evaluate whether NVK002 eye drops are safe and effective as a treatment for the progression of myopia in children. With this milestone, Vyluma remains on track for primary analysis readout later this year and regulatory submission in 2023. NVK002 is a proprietary, investigational, preservative-free eye drop administered nightly, which, if approved, would be the first-in-class pharmaceutical treatment for myopia progression in children.
The CHAMP clinical study, conducted in multiple centers across the U.S. and Europe, follows groundbreaking studies conducted in Asia, which concluded that low doses of atropine could be used to slow the progression of myopia in children. CHAMP is a three-arm, randomized, double-masked, placebo-controlled, Phase III study consisting of two stages: a three-year study period to evaluate the safety and efficacy of NVK002, followed by a re-randomized, masked, one-year study period to characterize cessation of therapy.
"This milestone brings us very close to the end of this important first stage of the Phase III CHAMP study," said Navneet Puri, PhD, Founder, Chairman, and Chief Executive Officer, Vyluma. "We look forward to sharing the results soon. In the meantime, we remain committed to following the science in the hope that, with these new data, NVK002 could hold the key to a potential first-ever clinically proven and approved pharmaceutical treatment option for children with myopia."
"Myopia prevalence is accelerating among children because of increased exposure to close work on digital screens and reduced time outdoors," explained Eric Lang, MD, Chief Medical Officer, Vyluma. "Vision correction with single vision contact lenses and eyeglasses does not treat myopia progression, leaving children at risk of serious consequences later in life. After almost five years, we now stand on the all-important cusp of the conclusion of the first stage of the CHAMP study. This represents a momentous landmark — bringing NVK002 a critical step closer to its potential in addressing this increasingly critical global unmet need."