October 8, 2021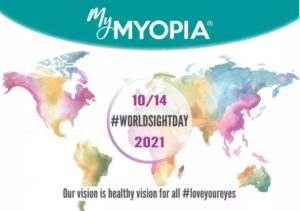 BRIDGEWATER, NJ — To show support for the International Agency for the Prevention of Blindness' (IAPB) 2021 World Sight Day, Vyluma and MyMyopia.com announced the release of new resources and tools that can be helpful for parents and practitioners. The theme for this year's World Sight Day is #LoveYourEyes, and the goal is to spread awareness about blindness and vision impairment.
In supporting World Sight Day, Vyluma and MyMyopia.com hope to educate parents about the risks of myopia and inform them of the importance of seeking information regarding options to slow the progression of myopia. The companies hope that these tools will be shared on social media, posted on eye practices' websites, and made available to patients as printable handouts.
The available resources include:
social media images with impactful statistics from recent research studies and MyMyopia community polls
an animated video that provides a foundational understanding of myopia in less than three minutes
parent quote graphics about their children's eyesight and myopia
short videos that feature myopic children asking eye doctors their important questions about myopia and vision health
social media graphics that feature the most common questions eye doctors receive from parents and accompanying answers
a myopia BINGO game parents can play with their children
To access Vyluma and MyMyopia.com's World Sight Day resources, click here.