June 14, 2022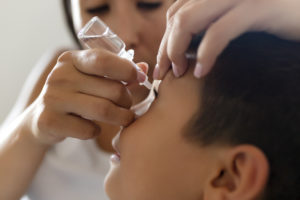 BRIDGEWATER, N.J. — Vyluma and Laboratories Théa have entered into an exclusive licensing agreement for the registration and commercialization of NVK002 in Canada, Mexico, and select countries in South America. This agreement represents an expansion of the previously announced exclusive licensing agreement for the commercialization of NVK002 in Europe and other select countries.
NVK002 is a proprietary, investigational, preservative-free eye drop administered nightly and intended for slowing the progression of myopia in children ages 3 to 17. It is currently under late-stage clinical evaluation in the CHAMP (Childhood Atropine for Myopia Progression) study, a Phase III multi-center clinical trial being carried out in the U.S. and Europe.
Under the terms of the agreement, Théa will manage the approval process for the product and once approved, the company will launch, sell, and support the product in the newly selected countries. With this latest agreement, Vyluma has the potential to receive payments exceeding $150 million upon the successful attainment of key regulatory and sales milestones across the Théa-licensed markets in Europe, Canada, and Latin America. In addition, Vyluma will be entitled to tiered royalty payments, ranging from the mid to upper teens, on net sales of NVK002 under the expanded agreement.
"We are very pleased to build upon the strong partnership we have established with Théa to include these exciting new markets," said Raul A. Trillo, MD, MBA, Chief Commercial Officer at Vyluma. "Théa has been an acknowledged pioneer in preservative-free eye care treatments, and by expanding the scope of the agreement signed in 2021, more patients will now have access to this important new therapeutic."