December 3, 2021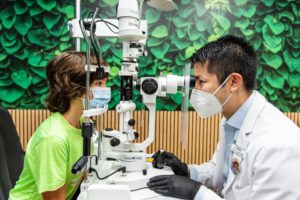 BOULDER, Colo. — Treehouse Eyes gained recognition at the 11th Annual Best in Biz Awards, earning Bronze in the Most Innovative Company of the Year — Small category.
Treehouse Eyes is dedicated exclusively to treating myopia in children. In the past 18 months, Treehouse Eyes has observed a 30 percent increase in the number of myopic children being treated. The company's patent-pending protocol, the Treehouse Vision System, has been shown to decrease the progression of myopia in kids and teens by up to 78 percent.
"This achievement underscores our dedication to our company's mission: to give children better vision for life," said Matt Oerding, CEO and co-founder of Treehouse Eyes. "In light of the pandemic, myopia is now a larger addressable market than braces, and we are proud of the innovations that have put Treehouse Eyes at the forefront."
Since the program's inception in 2011, winners of the Best in Biz Awards have been determined based on scoring from independent judging panels assembled each year from some of the most respected national and local newspapers, TV and radio outlets, and business, consumer, technology, and trade publications in North America.
The 11th annual awards program saw competition from more than 700 entries from public and private companies of all sizes and spanning all regions and industries in the U.S. and Canada. This year's judges were impressed with the winning companies' resilience and adaptability that allowed them to turn the challenges of the past 20 months into remarkable growth numbers, their exemplary dedication to their customers in matters small and large, and their efforts to maintain and deepen their commitment to the environment and local communities.
"This year's entries were of exceptionally high caliber," said Joseph Pete, Times of Northwest Indiana, judging his third Best in Biz Awards program. "Any would have been deserving of recognition and any could have won were it not for the high level of competition. The entries displayed an impressive list of accomplishments as well as quantifiable achievement."