April 12, 2019
By Richard Edlow, OD
Review of Optometric Business, December 2018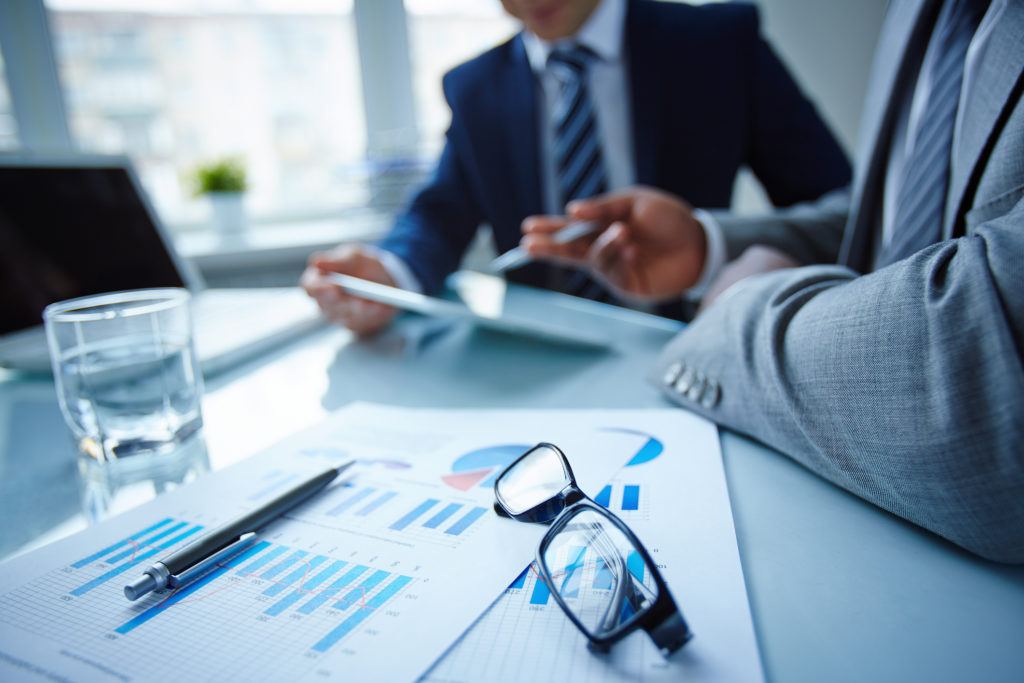 There is mounting evidence that the prevalence of myopia, both worldwide and in the United States, is growing at unprecedented levels. The associated public health issues go well beyond standard corrections of refractive error (i.e., eyeglasses, contact lenses and refractive surgery) to include pathology related to high myopia and loss of productivity.
A variety of recent clinical studies and research are in the process of changing the conventional management of myopia. This will ultimately change the dynamics of clinical practice for many frontline eyecare practitioners and, as a result, the economics of the eyecare industry and the individual practice.
As the prevalence of myopia rapidly grows, much is still unknown, or unproven as to the causative effects and pathophysiology. Essentially, we must look at all potential factors that might influence elongation of the eye's axial length, including environmental, genetic and physiologic considerations. For those not quite convinced that axial length could be influenced in dynamic ways, it would be worthwhile reading "Homeostasis of Eye Growth and the Question of Myopia", Neuron, Vol. 43, 447–468, August 19, 2004, Copyright ©2004 by Cell Press.
Shifts in Myopia Over Time
The past several decades have shown significant shifts in the prevalence of myopia and the resultant physiologic and anatomical changes (i.e., increased axial length). It is postulated that these changes dramatically increase the future risk and prevalence of a variety of significant pathologies, including:
retinal detachment
glaucoma
cataract
choroidal neovascularization
staphyloma (and resultant ocular damage)
myopic macular degeneration
Data analyzed from three longitudinal European studies clearly show the relationship between axial length elongation and increased prevalence of visual impairment. (JAMA Ophthalmology, December 2016; 134(12); 1355-1363)
Worldwide, the World Health Organization and Brien Holden Institute indicate that children with myopia will increase from 1.4 billion to 4.7 billion from 2000 to 2050, and those with high myopia (-5.00D or greater) from 163 million to 938 million (approximately 10 percent of the world's population). (Holden, Brien A., et al. "Global prevalence of myopia and high myopia and temporal trends from 2000 through 2050." Ophthalmology 123.5 (2016): 1036-1042.)
Prevent Blindness America estimates that approximately 24 percent of the adult population has myopia of one diopter or greater. The National Health and Nutrition Examination Study (NHANES, the data center part of the U.S. Centers for Disease Control) estimates the prevalence of myopia (0.50D and greater) in the 12-to-54-year-old population to approximate 41.6 percent.
The macro data available for the U.S. is not extremely consistent by age groups, but we can safely estimate that the average exam fee and eyewear expense per individual throughout the country is $174. (Note: Vision Council data dividing total U.S. expenditures for exams, frames, lenses and contact lenses by total vision correction users — $33.483 billion / 192.4 million users.)
So, at a minimum, we can estimate that $16 billion goes toward standard exam and refractive error corrections each year (Note: includes 9 percent of 7-to 17-year-olds and 50 percent of 20-to 59-year-olds) for myopic errors.)
Beyond the correction of refractive error, the greater concerns are related to the effects of high to severe degrees of myopia beyond adolescence. Estimates for myopia greater than or equal to -5.00D are approximately 7.5 percent of the population, thereby affecting over 13 million individuals in the U.S., based on 2017 U.S. Census data.
Various studies worldwide point to a number of causative variables, from decreased outdoor play time, increased use of digital devices, to increased pressure in the education system.
A steep increase in myopia in the U.S. is reflected in estimates from the National Eye Institute at the National Institutes of Health (NIH). Among the U.S. population aged 12 to 54, the NIH estimates that myopia increased from 21 percent in 1971 to 42 percent in 2017—and that figure is projected to rise to well over 50 percent by 2050.
PBA source: Ruderman, Marjory. 2016. Children's Vision and Eye Health: A Snapshot of Current National Issues (1st ed.). Chicago, IL: National Center for Children's Vision and Eye Health at Prevent Blindness
The economic costs of children's vision disorders are significant, amounting to $10 billion yearly in the United States. This estimate takes into account the costs of medical care, vision aids and devices, caregivers, special education, vision screening programs, federal assistance programs, and quality of life losses. Families shoulder 45 percent of these costs—not including the value associated with diminished quality of life.
Wittenborn JS, Zhang X, Feagan CW, et al. The Economic Burden Of Vision Loss And Eye Disorders Among The United States Population Younger Than 40 Years. Ophthalmology, 2013;120(9):1728-1735.
Based upon the above data, we can calculate the economic impact on society, the eyecare industry and on the practice level.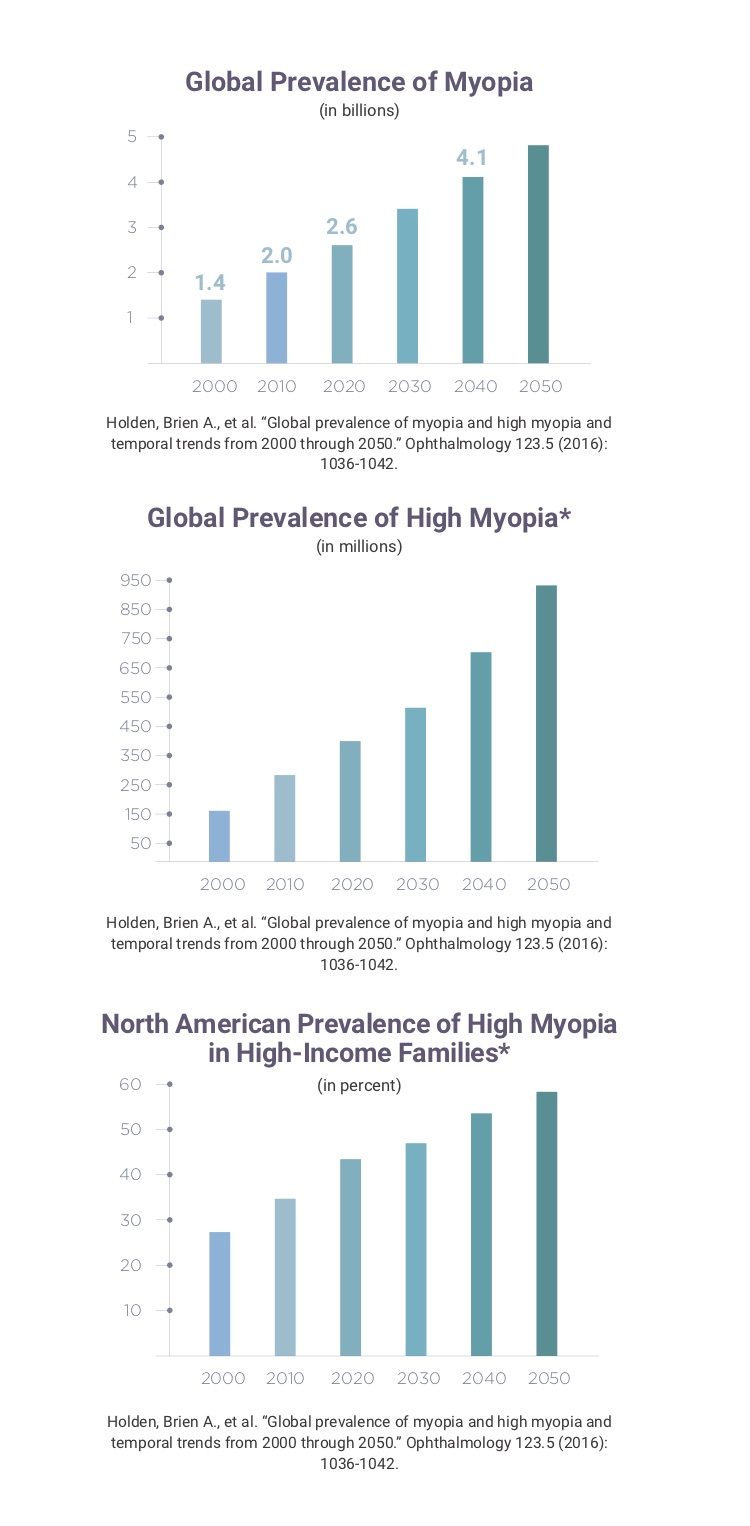 There are several ways to look at comparative paths. One can imagine a scenario where practitioners simply continue to correct refractive errors as they present themselves, without initiating any corrective action (see clinical aspects of myopia management) and calculate the impact on all levels.
The global prevalence of visual impairment and blindness from myopic macular degeneration is expected to increase dramatically from 2000 to 2050 if no significant intervention with effective myopia management occurs. Currently, it is estimated that 537 million people suffer some level of visual impairment from high myopia with approximately 250 million with best corrected acuity of 20/200 or worse. Additionally, the loss of productivity is measured in hundreds of billions of dollars ($240 billion U.S.).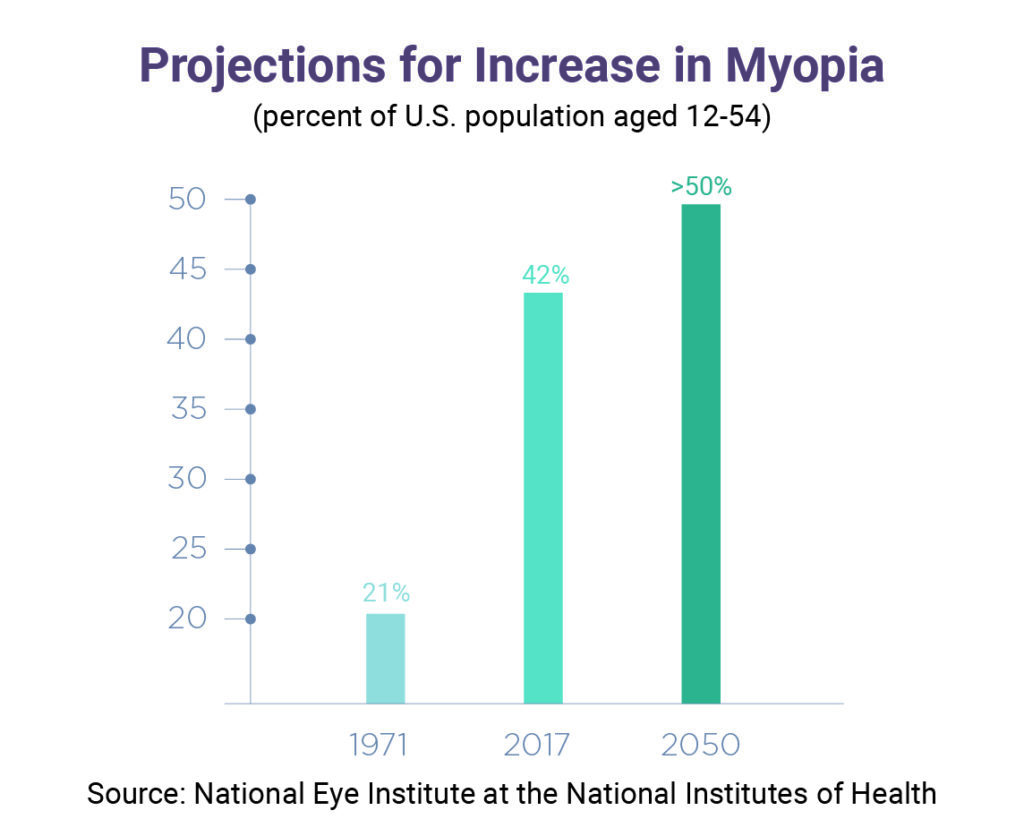 Fricke TR, Jong M, Naidoo KS, et al. Global prevalence of visual impairment associated with myopic macular degeneration and temporal trends from 2000 through 2050. Br J Ophthalmol Epub ahead of print: 26 April 2018. doi: 10.1136/bjophthalmol-2017-311266
The incidence of rhegmatogenous retinal detachment following cataract surgery has been reported to be between 0.5 and 1.0 percent; however, the rate for individuals with high myopia is 2.4 percent.
(reference: Ulster Med J. 2009 May; 78(2): 99–104. PMCID: PMC2699196   PMID: 19568445. The incidence and rate of rhegmatogenous retinal detachment seven years after cataract surgery in patients with high myopia. Michael A Williams,1 Stuart McGimpsey,1 Salwa Abugreen,2 Wing Chan,1 James A Sharkey,1 Richard M Best,1 and Patrick B Johnston1)
In a study published in 2015, glaucomatous visual field defects were found to be highly correlated with degrees of myopia; high myopia having a 14x higher incidence compared to emmetropia.
(Invest Ophthalmol Vis Sci. 2013 Jan; 54(1): 830–835. Published online 2013 Jan 28. doi: [10.1167/iovs.12-11158] PMCID: PMC3562121, PMID: 23299483. Association between Myopia and Glaucoma in the United States Population. Mary Qiu,1 Sophia Y. Wang,1 Kuldev Singh,2 and Shan C. Lin1)
Just as sub-markets have developed in the U.S. health care industry (e.g., with orthodontics, an $11 billion market, and hearing aids, a $7 billion market), one should expect something similar with the myopia management market.
Over the past few years, several models for the delivery of myopia management have emerged. Treehouse Eyes has established itself as a primary source for myopia management, based on a concierge approach, one patient at a time. Likewise, individual practices have taken their own lead in myopia management beyond just orthokeratology. A prime example is that of Nicholas Despotidis, OD, Eyecare Professionals, PC, in New Jersey.
This reports describes treatment methods based on that, if just 2 percent of myopic children between the ages of 7 to 17 (45.7 million per 2017 U.S. Census estimates) were enrolled in a myopia management program, this market would generate $1.8 billion. More importantly, this would reduce future complications related to high myopia.
Richard Edlow, OD, is known as The Eyeconomist. For many years, he chaired the AOA Information & Data Committee and continues to publish data on the economics of the eyecare industry. He is a founding partner in Catonsville Eye Group and is past president of the Maryland Optometric Association. Formerly, he was CEO of Katzen Eye Group, a 22-doctor co-managed practice.