sponsored content
January 3, 2022
By Neal Wolff, Vice President and Head of Marketing, Vylmua 
This year, awareness and understanding of myopia increased as organizations, associations, and influencers continued to emphasize the importance of eye exams and myopia management for children.
Understanding that conventional glasses and contact lenses do not slow the progression of myopia and that there are treatment options available is the highest priority takeaway — as it will continue to be in 2022 and beyond.

January: AAO Launches Global Myopia Task Force

In January, the American Academy of Ophthalmology (AAO) launched the Global Myopia Task Force with Vyluma Inc. as the first company committed to supporting the initiative over the next five years. The AAO's global initiative to address the worldwide myopia epidemic was led by the Global Myopia Task Force comprised of renowned doctors Richard L. Abbott, MD, (right) and Donald Tan, MD, and other recognized experts in myopia prevention and treatment, public health experts from around the world, and organization representatives from the American Academy of Family Physicians, American Academy of Optometry, and American Academy of Pediatrics.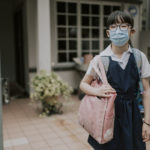 February: Study Confirms COVID's Impact
Early this year, studies confirmed myopia in children increased at an even more alarming rate following COVID-19 home confinement. In February, a study shared results that there was a substantial myopic shift (−0.30D) in children aged 6-8 years old after home confinement due to the coronavirus. The prevalence of myopia increased 1.4 to 3 times in 2020 compared with the previous five years.
May: Nevakar Creates Vyluma Inc. Subsidiary

In May, Vyluma Inc. was established as a wholly owned subsidiary of Nevakar, Inc., focusing on pharmaceutical ophthalmic solutions. Vyluma has a robust pipeline of novel therapies, which is led by NVK002, a pharmaceutical atropine eyedrop to slow the progression of myopia in children. NVK002 is currently in late Phase III CHAMP clinical trial in the United States and Europe and is entering Phase III in Asia. 
"With the establishment of Vyluma, we are committing more research, education, and resources to the ophthalmic clinicians, and their patients, to ensure we are not only bringing future treatments to market but inviting an open dialogue on how to best partner together," said Navneet Puri, PhD, Founder, Chairman and CEO.

June: American Academy of Ophthalmology Publishes Guidance
In June, the AAO published its recommendations, Reducing the Global Burden of Myopia by Delaying the Onset of Myopia and Reducing Myopic Progression in Children. The AAO Myopia Task Force's recommendations aim to reduce the global burden of myopia by delaying the onset of myopia and reducing myopic progression in children and adolescents.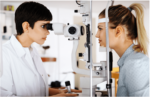 July: AOA Releases Myopia Management Clinical Report
In July, the American Optometric Association (AOA) released the Myopia Management Clinical Report, highlighting the vital role optometrists have in diagnosing, managing, and treating myopia. The AOA released a clinical guide, developed by the evidence-based optometry committee, and led by Andrew Morgenstern, OD, FAAO, FNAP, which serves as an updated resource with all the information optometrists need to start preventing myopic progression. 
September: MyMyopia.com Grows to 10,000 Members
In September, MyMyopia grew to a community of 10,000 members and garnered over 120,000 unique visitors to its website highlighting the importance of myopia education for parents. As the prevalence of myopia continues to increase in children, parents are seeking resources to help inform themselves on the impact of myopia and to prepare for important conversations with eye doctors about slowing its progression.
Visit MyMyopia's resource library

here.

Eye doctors can access MyMyopia's patient education toolkit

here.
October: Congress Briefed on Myopia as a Public Health Crisis
In October, The Alliance for Eye and Vision Research organized a Congressional briefing: Nearsightedness is a Public Health Crisis. The briefing, held in conjunction with the AOA, the AAO, Research to Prevent Blindness, and the Association for Research in Vision and Ophthalmology, educated legislators on the increasing incidence of myopia and the associated cost burden.
"Nearsightedness has risen dramatically over the last 50 years. If nothing is done to help slow the increase, half the world's population may be nearsighted by the year 2050. That means much more than a lot of people in glasses. It means a lot of kids today are at risk of developing vision-threatening eye conditions tomorrow," the AAO press release stated.

October: GMAC Shares Results of Two-Year Study
In October, the Global Myopia Awareness Coalition (GMAC) shared results from a two-year study showing progress in raising parents' awareness of myopia. GMAC conducted a study comparing parents' awareness and perceptions about myopia in 2019 and now in 2021. The key takeaways were:
Parents have increased their awareness of myopia and nearsightedness, and the COVID-19 pandemic likely played a role in this.

There were significant peaks in online searches for myopia around the back-to-school season.

While awareness of myopia is growing, there is still more education that needs to happen for parents. Overall, many misperceptions about myopia have changed in recent years, thanks in part to the publication of new research and science-based articles.
"Nearly 60% of the survey respondents were able to clearly define the condition. However, when it comes to how familiar parents are with myopia as a whole, 22% of parents weren't familiar with it at all, and 20% weren't very familiar with it," the study reported.
2021, 2022 and Beyond: MyMyopia.com Helps ECPs Educate Parents
This year, MyMyopia put an emphasis on equipping eye care professionals with resources to help educate parents about myopia with a new toolkit and website plug-in. The MyMyopia toolkit contains many valuable resources in the form of brochures, reference sheets, and checklists. It includes embed codes for resources, such as an infographic and video content for easy use. The MyMyopia plug-in offers eye care professionals a quick and easy way to add a myopia education page to their websites.
The MyMyopia toolkit and how-to guide can be downloaded

here.

Contact the MyMyopia team for support installing the myopia education page on your website

here.
We appreciate your interest in MyMyopia, and we look forward to a new year of sharing more knowledge, insights, and successes in protecting children's vision throughout the next year. Our continued goal is to launch new initiatives to support parent education and to equip professionals with helpful resources.
| | |
| --- | --- |
| | Neal Wolff is currently the Vice President and Head of Marketing at Vyluma, Inc. In this role, he is responsible for all marketing activities across the entire Vyluma portfolio of ophthalmic products. He leads in the creation and execution of all marketing activities across Vyluma's portfolio of products, and he is focused on areas of high unmet needs, including addressing the pediatric myopia epidemic. |
This article is sponsored by Vyluma Inc.