sponsored content
December 15, 2022
By  Langis Michaud, OD, MS 
It becomes obvious that wearing anti-myopia correction full-time must be encouraged. If for any reason, this type of correction must be removed and replaced by another modality, single vision lenses may be considered only if the exposure is minimal.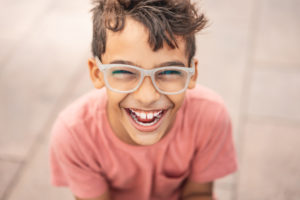 "Should children with myopia management contact lenses be prescribed myopia management spectacle lenses?" This is a question I am often asked at conferences by colleagues. It is indeed an issue that is not given much thought but deserves our attention.
Rule #1: Contact Lens Wearers Need Glasses
Every contact lens wearer, regardless of corneal or refractive condition, should rely on a pair of eyeglasses that allow them to achieve a functional level of vision. This is simply a precautionary measure. In the event of an eye infection, activities that put the wearer at risk for contact lens wear (e.g., exposure to chemicals), simply to relax at home on a Sunday morning, or to care for a baby in the middle of the night, spectacles are required and are found more practical than the contact lenses that are usually worn. 
Rule #2: Myopia Managed Children Are No Exception
Children who are undergoing myopia management should not be an exception to this rule. Although properly fitted with contact lenses, they should be provided with eyeglasses that can be worn functionally when needed. It goes without saying for soft contact lens wearers, for whom it is easy to get a spectacle that is equivalent in power to the contact lenses they wear. This is slightly different for orthokeratology lens wearers. In the latter case, the choice of power can be variable. At lens removal, the patient becomes myopic again, and the rate and speed of recovery depend on the initial parameters (refractive error, corneal curvatures, biomechanical factors) and the length of time OrthoK lenses were worn. 
As a rule of thumb, I prescribe half the initial correction for OrthoK lens wearers. This usually results in a slight overcorrection initially, then an undercorrection later, both relatively well tolerated, and because they are worn in the short term, have presumably no adverse effects on refractive evolution. However, it allows the patient to remain functional for several days, not rushing to resume contact lens wear. If the patient was already wearing glasses for residual refractive error, I add half of the power corrected with OrthoK to the residual one already worn. 
Rule #3: Respect Manufacturers' Recommendations
Manufacturers of myopia management ophthalmic lenses and devices recommend that their products be worn for a minimum amount of time to be effective. This often means a minimum of six days per week for contact lens wearers over a period of at least eight to twelve hours per day of wear. This leaves three hours per day or more and one full day per week without anti-myopia coverage. Depending on the child's activities (reading or tablets vs. sports or outdoor time), this lack of specialized correction could hinder the treatment and lead to less optimal results. In cases such as this, I tend to strongly suggest myopia management spectacle lenses to ensure that the results are optimized for the benefit of the child. 
If, however, the child only removes the contact lenses 15 minutes before sleep, that's a little over an hour of total weekly exposure without myopia protection. It would then be difficult to justify providing myopia management spectacle lenses. A single vision lens will do just fine. 
On the other hand, the wearer of myopia management spectacle lenses must wear them for an average of 10 to 12 hours per day, as recommended by the manufacturers, and keep them on for reading or computer work. This wearing schedule leaves little time for the absence of anti-myopia coverage to be present. However, this wearer would probably want to remove his glasses to play sports (especially if a ball game is played). Daily disposable contact lenses (with a UV filter if the sport is played outdoors) should be preferred then, and a single vision design will be adequate, considering that it is only a few hours of use per week. 
If, on the other hand, the patient develops a taste for wearing contact lenses and would like to alternate half-and-half between myopia management spectacle lenses and this modality, then it would be necessary to migrate to a contact lens design that allows for effective myopia management. 
Rule #4: Use Common Sense
It becomes obvious that wearing anti-myopia correction full-time must be encouraged. If for any reason, this type of correction must be removed and replaced by another modality, single vision lenses may be considered only if the exposure is minimal. No solid research has been done on this topic, and it is problematic to trace the line in terms of hours or days. But we must remind ourselves that myopia is driven by a dose-response to visual stimulation at the retinal level. This means that the devices we prescribe for myopia management must be used enough time during enough days to generate a high dose of myopic defocus (or positive spherical aberration) to the visual system, expecting a favorable response and good control. Myopia management spectacle and specialty contact lenses may have to be combined to achieve this goal. 
Therefore, we must rely on common sense and methods that will promote the best patient compliance with the treatment. Lifestyle and budget are other factors to consider then.
| | |
| --- | --- |
| | Dr. Langis Michaud graduated from École d'optométrie de l'Université de Montréal (OD 1986, MSC 1998). He also graduated from École Nationale d'Administration Publique (ENAP) in 2006. He is a full professor and has practiced at Université de Montréal since 2001. Dr. Michaud was nominated Head of the Contact Lens Department in 2005 and Dean in June 2020. His main research interests are myopia management, scleral contact lenses, keratoneuralgia, and eye dryness, and he has also published on ocular manifestations of Fabry disease. He is the author of Managing Myopia One Child at a Time. |
This article is sponsored by EssilorLuxottica.