sponsored content
May 16, 2022
Cross-professional relationships between health care professionals and eye care professionals can help ensure a parent and child can easily find the treatment the child may need.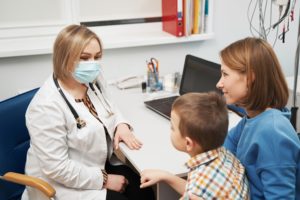 At nine years old, Adam came home from school with a note from his school nurse — he had failed the school's eye screening. After visiting a local eye care professional, he and his family learned that Adam had developed myopia. 
For many children, this is how their myopia story starts — with a school nurse's note, a pediatrician's screener, or another provider who notices that a child is squinting, experiencing headaches, or having trouble seeing. In fact, nine in ten ECPs report in-school eye screenings as a primary reason parents bring children into their practices. 
Cross-professional relationships between health care professionals (HCPs) and eye care professionals (ECPs) can help ensure a parent and child can easily find the treatment the child may need. For parents of age-appropriate* children with myopia, this may mean locating an ECP certified to prescribe MiSight 1 day contact lenses for myopia control.*† 
MiSight certified ECPs Dr. Carlee Young of Clarkson Eyecare Kids and Dr. Katherine Schuetz of Little Eyes Pediatric Eye Care have both made cross-professional relationships a priority in their practices over the past five to ten years. For them, it's both about growing their practices and supporting children's vision in their communities. 
Here are their tips for nurturing HCP relationships in a manageable and effective way:
Remember that Outreach is Scalable
If investing time in networking with local HCPs seems unattainable for your busy schedule, this tip is for you. Your efforts can be scalable to fit whatever time and staff resources you have at the moment. 
 "Carve out just an hour here or there. Begin with two or three pediatricians or school nurses in your area," suggests Dr. Young. 
One simple way to find your first contacts is through the patients you already have. The team at Clarkson Eyecare found that many of their patients shared the same nearby pediatrician. A shared interest in the health of these children provided a foundation to grow a mutually beneficial connection. 
Reach Out to a Helping Hand
Dr. Schuetz's outreach to school nurses began with an offer to support eye screenings for three schools in her area — and she was met with overwhelming gratitude. The word spread like wildfire, and their network quickly grew. Little Eyes Pediatric Eye Care now sends a team of four optometrists out to 15 schools every year. 
Her team's public service has helped the school nurses get to know and trust their optometrists. Now, when a teacher spots a potential vision issue in a student and sends the child to the nurse, the nurses conduct an acuity test and often refer the child to Little Eyes for a comprehensive exam. 
"Recently, an elementary school student came into our practice with her parents after a screening we had done at her school found that she may have myopia," shares Dr. Schuetz. "Her parents agreed to start myopia management that same day. Within a month, they had referred four other parents and children to our practice for myopia control. A little public service can go a long way." 
For Dr. Young and her team, outreach to pediatricians often starts with a letter, along with a business card and MiSight 1 day print materials. They then follow up with a phone call and set up an in-person visit when they can. 
"For us, it's important for our local health care professionals to know that we do more than just offer glasses," says Dr. Young. "Doctors can trust that they will get complete vision care when they refer their patients to us."
Keep Your Health Care Partners Informed
Once you've built bridges between your practice and your local HCPs, it's important to maintain those relationships. 
For every pediatric exam Dr. Schuetz does, she sends a letter to the child's pediatrician — even for children who don't currently have any vision concerns. She considers this one of her practice's biggest wins. Communicating with the pediatrician about the health of the child's vision even when there are no concerns demonstrates her commitment to ethical prescribing and her regard for her relationship with the pediatrician as another provider invested in the child's well-being. 
Her practice also sends cookies out to its HCP partners during the winter holiday season. It's a fun, lighthearted way to show their gratitude for caring for mutual patients. 
When ECPs, HCPs, and other providers collaborate, children win. To learn more about becoming a MiSight 1 day prescriber and gain access to exclusive practice resources, including letter templates to support cross-professional outreach, visit https://coopervision.com/practitioner/myopia-management.
Katherine Schuetz

, OD, is a MiSight-certified optometrist at Little Eyes Pediatric Care and RevolutionEYES in Carmel, Indiana. Dr. Schuetz received her Doctorate of Optometry magna cum laude from Indiana University School of Optometry. Dr. Schuetz has lectured internationally on myopia control and believes that children need special care to diagnose and treat vision problems.

Carlee Young

, OD, is a MiSight-certified pediatric optometrist at Clarkson Eyecare Kids in Frisco, Texas. Dr. Young received her Doctorate of Optometry from the University of Houston College of Optometry, where she graduated summa cum laude. She then completed a residency in pediatric optometry at the Southern California College of Optometry at Marshall B. Ketchum University in Anaheim, California.
* Indications for Use: MiSight 1 day (omafilcon A) soft (hydrophilic) contact lenses for daily wear are indicated for the correction of myopic ametropia and for slowing the progression of myopia in children with non-diseased eyes, who at the initiation of treatment are 8-12 years of age and have a refraction of -0.75 to -4.00 diopters (spherical equivalent) with ≤ 0.75 diopters of astigmatism. The lens is to be discarded after each removal.
†Soft contact lens designed for myopia control in the U.S.