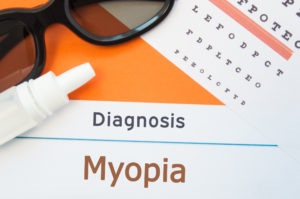 SYDNEY and LAVAL, QC – Bausch Health Companies Inc. (NYSE/TSX: BHC) ("Bausch Health") and Bausch + Lomb, its leading global eye health business, along with BHVI, an Australian not-for-profit organization with an international focus on vision research, announced today that an affiliate of Bausch Health has acquired an exclusive license for a myopia control contact lens design developed by BHVI. Bausch + Lomb will pair BHVI's novel contact lens design with its leading contact lens technologies to develop potential contact lens treatments designed to slow the progression of myopia in children.
Myopia, also known as nearsightedness, is among the most common ocular disorders worldwide and is a leading cause of visual impairment in children.1 Studies have predicted that the global prevalence of myopia will rise from 28 percent of the world's population, or two billion people, in 2010 to 50 percent of the world's population, or five billion people, in 2050.2 In fact, uncorrected myopia is a leading cause of blindness worldwide.3
Bausch + Lomb is focused on finding global solutions to treat myopia. The Company also announced earlier this week that one of its affiliates acquired an exclusive license from Eyenovia, Inc. in the United States and Canada for the development and commercialization of an investigational microdose formulation of atropine ophthalmic solution, which is being investigated for the reduction of pediatric myopia progression, also known as nearsightedness, in children ages 3-12.
"We are excited to leverage cutting-edge contact lens design technology from renowned ophthalmic research organization BHVI with our leading lens technologies so that we can research potential new treatment options for myopia, which continues to become more prevalent around the world," said Joseph C. Papa, chairman and CEO, Bausch Health. "As evidenced by both of our new exclusive licenses for different potential treatments for myopia, Bausch + Lomb remains committed to finding new approaches to treating this condition for as long as there is a need."
"For decades, BHVI has sought solutions to fulfill the unmet needs in the ophthalmic space by innovating commercially relevant technologies, including those specifically developed to help with myopia control," said Frank Back, chairman, BHVI. "Bausch + Lomb's long-standing position as a leader and innovator in eye health makes it the ideal choice for a partner, and we look forward to helping improve the vision of people with myopia around the world through their use of this contact lens design."