February 15, 2022
sponsored content
By Kristen Dalli, Managing Editor, Review of Myopia Management

With the right strategies and the proper guidance, ECPs are sure to improve their profits, brand awareness, and patient satisfaction when introducing any new revenue-driving specialty service.
X-Cel Specialty Contacts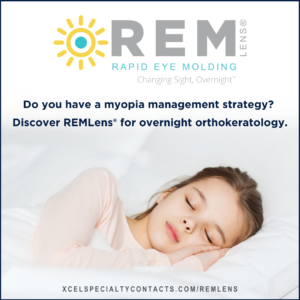 understands the importance of consumer awareness and practice management when it comes to myopia management. To assist practitioners in promoting the importance of myopia management, and specifically orthokeratology, X-Cel provides assistance from certification, to fitting, to patient education, and community outreach. X-Cel's newest orthokeratology design, the REMLens, is the latest product for which this support can help you provide the appropriate treatment for your patients.
X-Cel has partnered with DONE4YOU Marketing, a professional eye care marketing agency. DONE4YOU will take on all things marketing when it comes to your myopia management and orthokeratology specialty service. Through the help of their D4YREADY specialty service program, X-Cel and DONE4YOU Marketing can partner with you to customize and create the end-to-end myopia management program for your practice, including: developing in-office processes, pricing structures, patient communications, digital marketing, and ongoing patient communications.
With the right strategies and the proper guidance, ECPs are sure to improve their profits, brand awareness, and patient satisfaction when introducing any new revenue-driving specialty service. From start to finish, DONE4YOU Marketing will craft a strategy ideally suited to practitioners' needs and manage the entire process, executing proven tactics to help ECPs get the best results possible and increase profits in no time.
What Are the Benefits of Working with DONE4YOU Marketing?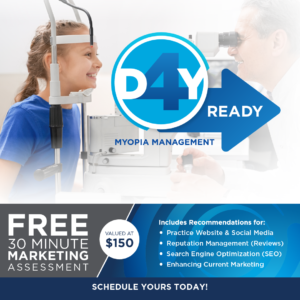 The DONE4YOU Marketing, D4YREADY program is beneficial for practitioners for several reasons: It's affordable, personalized, strategic, and all deliverables are trackable. DONE4YOU Marketing provides budget-friendly access to every marketing offering and resource ECPs need to help eliminate the stress of ongoing marketing efforts. The marketing plan is also customized, never templated, and it is guaranteed to be unique to your practice's brand, revenue goals, and business strategies. Your dedicated marketing manager will create, plan, and execute your marketing goals based on proven tactics and results within the eye care industry. Perhaps most important, all efforts are tracked and analytics are provided to practitioners every step of the way so you always know the results of your investment. 
Taking the Next Steps
Practitioners interested in learning more about D4YREADY for myopia management can simply set up a complimentary 30-minute marketing assessment. The assessment includes recommendations for practice websites and social media, reputation management, SEO, and enhancing current marketing. 
For more information, email Hello@marketingd4y.com or visit www.d4ymrkt.com. 

DONE4YOU Marketing exclusively serves busy eye care professionals, providing you with a dedicated expert to manage and execute all of your marketing initiatives.
​Headquartered in Minneapolis, Minn., and established in 2015, DONE4YOU Marketing has been dedicated to providing revenue-based results and customized marketing to help clients stand out in a competitive marketplace. DONE4YOU Marketing is focused on helping independent eye care professionals across the country thrive with cohesive marketing strategies in order to grow their practices and increase their capture rate, revenue per patient, and maximize third party plans without seeing another patient. 
​DONE4YOU Marketing's team of proactive marketing professionals work on your behalf to manage and execute results-orientated marketing to help uncover new patient opportunities and grow your business when you don't have the time or resources to do it yourself.