Sponsored content
Oct. 15, 2020
By Richard Hom, OD, PhD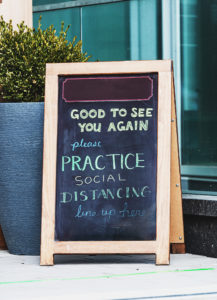 The traditional delivery of eye care, like myopia management, has changed because of the SARS-CoV-2 virus. It is a new virus, and ongoing research will create new ways to detect the virus and treat the resulting disease. The virus is above average in contagiousness and can result in hospitalization, especially in individuals with underlying health conditions.1.2 The danger from COVID-19 will likely continue for at least two more years.3, 4 The age group 7-18 years of age when infected, can be sick and act as potential vectors even when asymptomatic.5 6,7 The myopia practice requires multiple visits in a year and can increase the chances of unintended transmission.8 To reduce the risk of infection in a myopia management practice, a strategy that addresses modifiable factors can help promote patient and staff safety.
There are four approaches to managing risk in a myopia management practice: examination workflow, environmental, personal and patient. The first component is the optometric evaluation and examination in the myopia patient environment. Under pandemic conditions, the goal of the optometrist is to minimize close personal contact with the patient and the total time in the office. Keeping the direct face-to-face interaction of 2 feet or less for fewer than 60 seconds requires modification to the examination sequence. Doctors must choose which procedures require their close contact and which procedures can be performed by other staff such that no single staff member is exposed for more than 60 seconds in a visit.9
For instance, contact lens training for insertion, removal and care may be delegated to a knowledgeable parent or an instructional video, which are commonly available on YouTube. Empirical rather than diagnostic fitting whenever possible is also a tactic to reduce "in-office" times. The doctor must also rank the following procedures for sequencing for the initial visit and for subsequent visits: axial length, dilated retinal examination, cycloplegic refraction and visual skills. In most cases an interpretation of a retinal photograph instead of "close personal space" ophthalmoscopy may be prudent. The retinal exam is not neglected but modified. Lastly, technology that distances the doctor from a patient should be considered. Such modifications support the overall safety of a patient.
The second dependency is the environment. The judicious use of ventilation, relative humidity, temperature and ventilation minimizes the persistence and spread of the virus. The office's ventilation system should be capable of at least eight air changes per hour (8 ACH). Maintaining the relative humidity at 40 percent to 60 percent and room temperature at 68 degrees Fahrenheit or above are also strongly recommended. Absorbent materials in the walls, furniture, surfaces and equipment location all affect airflow and air stagnation.10-13 When an office's environmental conditions cannot be modified by the doctor, strengthening other components can mitigate potential danger.
The third component of safety is personal protection equipment (PPE), the first "line of defense" against infection.14 Face shields, masks and scrubs are the major PPE for patient-facing staff to prevent water droplets from reaching the ACE2 receptor sites of the eyes and nose.15,16 Personnel who directly care for patients can elevate their protection by using a well-fitted N95 mask and face shield. All others who are in the same building, even when there are separate rooms, should wear surgical masks. Within the office, PPE use by office staff, doctor and patients helps prevent infection.17-19
The fourth and last component of a protection scheme is the patient's use of a paper or cloth surgical mask. They may be rectangular shaped with straps for looping around the ear. Masks may have pleats to expand the mask to fit larger faces and permit full coverage of the nose and mouth. The masks are not designed to be airtight and are conceived to prevent the infection of others. Fundamentally, masks must fit the patient's face to permit full coverage of their nose and mouth. They need not be airtight to prevent infection.
Under pandemic conditions, a doctor's duty to protect their patients may appear to clash with regulatory bodies, third-party payers and the public. Practically all licensing boards and third-party payers offer provisions that give doctors the prerogative and latitude to change their behavior if those regulations needlessly expose the patients to a higher chance of infection or injury. In this environment, cooperation by all parties will keep the virus in check and help return optometry to normality.
Richard Hom, OD, PhD, is Optometric Director of Anthem, Inc., Adjunct Associate Professor of Optometry of the New England College of Optometry, Diplomate in Public Health and Environmental Vision with the American Academy of Optometry and a Trustee of the California Optometric Association. This article is sponsored by Essilor.
References
Tang X, Wu C, Li X, et al. On the origin and continuing evolution of SARS-CoV-2. National Science Review. 2020.
Hewings-Martin Y. How do SARS and MERS compare with COVID-19? https://www.medicalnewstoday.com/articles/how-do-sars-and-mers-compare-with-covid-19#SARS. Published 2020. Accessed August 5, 2020, 2020.
CDC. Laboratory-confirmed COVID-19 – associated hospitalizations – A weekly summary of US COVID-19 Hospitalization Data. Center for Disease Control and Prevention. COVID-NET Web site. https://gis.cdc.gov/grasp/COVIDNet/COVID19_3.html Published 2020. Updated July 31,2020. Accessed August 5, 2020, 2020.
CDC. Coronavirus Disease 19 (COVID-19). https://www.cdc.gov/coronavirus/2019-ncov/summary.html. Published 2020. Accessed.
Idele P, Anthony D, You D, Luo C, Mofenson L. The evolving picture of SARS-CoV-2 and COVID-19 in children: critical knowledge gaps. BMJ Glob Health. 2020;5(9).
Li X, Xu W, Dozier M, He Y, Kirolos A, Theodoratou E. The role of children in transmission of SARS-CoV-2: A rapid review. J Glob Health. 2020;10(1):011101.
Feldstein LR, Rose EB, Horwitz SM, et al. Multisystem Inflammatory Syndrome in U.S. Children and Adolescents. N Engl J Med. 2020;383(4):334-346.
Walline JJ, Mutti DO, Jones LA, et al. The contact lens and myopia progression (CLAMP) study: design and baseline data. Optom Vis Sci. 2001;78(4):223-233.
Lai TH, Tang EW, Chau SK, Fung KS, Li KK. Stepping up infection control measures in ophthalmology during the novel coronavirus outbreak: an experience from Hong Kong. Graefe's Archive for Clinical and Experimental Ophthalmology. 2020:1-7.
Setti L, Passarini F, De Gennaro G, et al. Airborne transmission route of COVID-19: why 2 meters/6 feet of inter-personal distance could not Be enough. In: Multidisciplinary Digital Publishing Institute; 2020.
Shaman J, Kohn M. Absolute humidity modulates influenza survival, transmission, and seasonality. Proceedings of the National Academy of Sciences. 2009;106(9):3243-3248.
Dancer SJ. Controlling hospital-acquired infection: focus on the role of the environment and new technologies for decontamination. Clinical microbiology reviews. 2014;27(4):665-690.
Colburn CJ. Controlling covid-19 transference: through heating, ventilation & air-conditioning systems. Professional Safety. 2020;65(7):13-15.
Bae S, Kim M-C, Kim JY, et al. Effectiveness of surgical and cotton masks in blocking SARS–CoV-2: a controlled comparison in 4 patients. Annals of internal medicine. 2020.
Hoffmann M, Kleine-Weber H, Schroeder S, et al. SARS-CoV-2 cell entry depends on ACE2 and TMPRSS2 and is blocked by a clinically proven protease inhibitor. Cell. 2020.
Zhou L, Xu Z, Castiglione GM, Soiberman US, Eberhart CG, Duh EJ. ACE2 and TMPRSS2 are expressed on the human ocular surface, suggesting susceptibility to SARS-CoV-2 infection. bioRxiv. 2020:2020.2005.2009.086165.
Bahl P, Bhattacharjee S, de Silva C, Chughtai AA, Doolan C, MacIntyre CR. Face coverings and mask to minimise droplet dispersion and aerosolisation: a video case study. Thorax. 2020:thoraxjnl-2020-215748.
Derrick JL, Gomersall C. Protecting healthcare staff from severe acute respiratory syndrome: filtration capacity of multiple surgical masks. Journal of Hospital Infection. 2005;59(4):365-368.
bin‐Reza F, Lopez Chavarrias V, Nicoll A, Chamberland ME. The use of masks and respirators to prevent transmission of influenza: a systematic review of the scientific evidence. Influenza and other respiratory viruses. 2012;6(4):257-267.