April 15, 2021
By Keith Wan, OD, Scripps Poway Eyecare & Optometry
The future looks bright for myopia management. If you're in private practice, having these treatments at your disposal and educating parents about the benefits of starting myopia management at an early age is where you want to be.
As a private practice owner for more than two decades, I've had a front-row seat to the latest myopia management treatments and technologies. Both in my practice and in the eye care field in general, treating myopia has evolved considerably over the years. When we first started myopia control efforts in the early 2000s, we were strictly fitting patients for orthokeratology lenses. By 2011, our office had transitioned into using soft multifocal lenses for myopia management. It wasn't until 2015 that we started prescribing atropine, and we were one of the first optometrist's offices in San Diego to use atropine to slow the progression of myopia.
Most recently, we've been certified by CooperVision's Brilliant Futures Program to start fitting patients for the new MiSight 1 day contact lenses, which are designed specifically for myopia management.* While the COVID-19 pandemic prevented us from getting an in-person certification, we completed extensive online training, including how to educate our staff, how to present these lenses to parents, and the specifics of their research, and why soft multifocal lenses are such an effective option for slowing myopia progression.  
Identifying the Right Treatment Option for Patients
Each myopia patient has different needs, and finding the most appropriate treatment — or combination of treatments — should be looked at on a case-by-case basis. Looking at a patient's axial length measurement, which we take using the Zeiss IOL Master, is one of the most reliable ways to assess myopia progression. The scan only takes a couple of seconds, which makes it easy to incorporate into exams and follow-up visits. Once we have the tangible data, we're better able to assess the patient's needs, and determine a course of treatment. 
I've learned that listening to each child's concerns and listening to their parents' concerns can be an excellent benchmark to determine my treatment course. If a parent tells me that they're fighting with their kids each night to put in orthokeratology lenses, starting them with topical low-dose atropine is a possible solution. If a friend referred a parent because their child had a great experience with OrthoK lenses, that's an easy conversation. If parents tell me they want to stay away from chemicals or medication for their child, we'll rule out atropine and prescribe them soft multifocal contact lenses. 
Having an FDA-approved contact lens in our armamentarium now has been great because they're a soft contact lens and they're comfortable for children to wear. We've seen promising results so far — both used alone and in tandem with other myopia treatments. I'm a big proponent of low-dose atropine, and I've seen firsthand how it can benefit kids with myopia. Still, I've also noticed several patients recently that atropine alone isn't always the best option for their long-term myopia progression. Now, I can recommend the multifocal soft contact lenses with the low-dose atropine, which has produced excellent results for several patients. In the future, I'm sure the opposite will also be true, where patients wearing multifocal lenses need additional myopia treatments, and I'll be able to incorporate atropine into their treatment plan.
It's also important — and exciting — to look to the future of myopia management and what treatment options will look like in the coming months and years. Several companies, including CooperVision's recent JV partnership with Essilor to acquire SightGlass vision, are working on spectacle lenses geared toward reducing myopia progression. For the youngest patients that come into the office – the four, five, and six-year-olds – fitting them for a pair of glasses will be an easy way to begin myopia management treatment. Then they can transition into contact lenses, orthokeratology lenses, atropine, or some combination of treatments. 
Educating Patients Doesn't Have to Be a Roadblock
Communicating and educating parents is often the most challenging part of figuring out which myopia treatment is the right fit for each patient. CooperVision has provided us with informative materials to share with patients and their parents about the MiSight lenses, which has been beneficial in conversations with patients and their parents. Something we've learned is that starting a conversation with scary words such as glaucoma, cataracts, or macular degeneration won't lead to positive outcomes with patients. The best way to go about it is to talk about the child's opportunities and get specific about how the treatments will prevent eyesight from weakening significantly. My goal is always to break that barrier and not use such technical terms, but instead utilize materials such as the BHVI myopia calculator, which allows parents to forecast out and get an idea of what their child's eyesight can become without these interventions. 
Looking to the Future
The future looks bright for myopia management. If you're in private practice, having these treatments at your disposal and educating parents about the benefits of starting myopia management at an early age is where you want to be. I believe it is your professional responsibility. 
*Indications for use: MiSight 1 day (omafilcon A) soft (hydrophilic) contact lenses for daily wear are indicated for the correction of myopic ametropia and for slowing the progression of myopia in children with non-diseased eyes, who at the initiation of treatment are 8-12 years of age and have a refraction of    -0.75 to -4.00 diopters (spherical equivalent) with ≤ 0.75 diopters of astigmatism. This lens is to be discarded after each removal.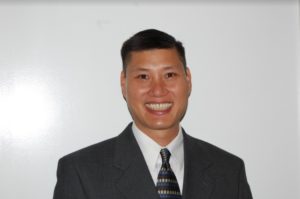 Dr. Wan earned his doctorate in Optometry from UC Berkeley. He has a clinical interest in fitting contact lenses and medically indicated contact lenses for conditions such as keratoconus, high myopia, high astigmatism, and anisometropia. He uses several techniques for myopia management to slow down the progression of nearsightedness by using eyedrops or specialty contact lenses, and he also participates in clinical trials for myopia management.