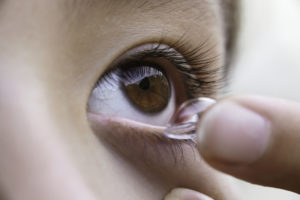 September 28, 2020
U.S.-based medical device company Visioneering Technologies has released positive five-year data for its NaturalVue (etafilcon A) Multifocal 1 Day Contact Lenses.
The data show that even after five years, NaturalVue Multifocal contact lenses continue to blunt the progression of nearsightedness in children who are wearing the lenses, and over three years of study, substantially slows the lengthening of the children's eyes, or the eye's "axial length."
This new data adds to previously released data sets in that it increases the number of children and optometry practices contributing to the data set, adds longer time points, and includes more extensive data related to the lengthening of the eyes of the children (excessive lengthening of the eye is the cause of nearsightedness).
Pediatric myopia, or nearsightedness in children, has undergone explosive growth on a global scale over the past four decades and has become a major worldwide eye health issue. Eyecare experts generally believe that minimizing the progression of nearsightedness is an important intervention aimed at minimizing lifetime risks of blindness and other serious ocular diseases that are correlated to nearsightedness.
The updated data include 153 children (mean age 12 years) being followed for 6 to 59 months. The data were consistent at each time point, demonstrating approximately 90% decrease (approximately 1.00 D) in myopic progression, as compared to the rate of progression prior to wearing NaturalVue Multifocal contact lenses. All time points were statistically significantly different from baseline (p < 0.00001). Within a subset of 36 children, axial length was measured over time. Axial length change from baseline averaged 0.11 + 0.14 mm at 12-17M (88% reduction in axial length change as compared to baseline), 0.20 + 0.20 (66% reduction) at 18-24M, and 0.17 + 0.21 (55% reduction) at 30-35M. The company received no reports of adverse events related to the contact lenses.
In order to provide data to practitioners and families on the probability of successful treatment with NaturalVue Multifocal contact lenses in the most at-risk patients, a subset analysis of 8-12-year-olds was performed for Number Needed to Treat (NNT). NNT is the number of eyes a practitioner would need to treat in order to see an effect deemed clinically significant. This data suggests for every eye treated, one eye will show the benefit (no meaningful myopic progression over a 3-year period), amounting to meaningful probability of clinical effect.
Each practitioner should come to their own conclusion about how to interpret clinical data and how the data should impact or influence their decisions with patients. Further research is needed to understand the clinical importance of these data and how the observations relate to long-term outcomes.
Visioneering CEO Stephen Snowdy, PhD, said: "Pediatric myopia is not just an inconvenience; it is a condition that results in higher risk of serious ocular disease over one's lifetime, and VTI and the practitioners who contributed this data are intensely committed to fighting pediatric myopia. The long-term effectiveness shown by this new data set for NaturalVue Multifocal is very encouraging, especially when combined with the excellent vision experienced by children wearing the lenses. Our goal is to expand the availability of NaturalVue Multifocal globally and to minimize the amount of myopia progression in as many children as possible."