October 21, 2021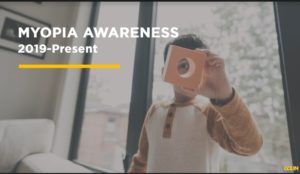 ST. LOUIS — The Global Myopia Awareness Coalition (GMAC) conducted a study between 2019 and 2021 to get a better idea of parents' awareness and perceptions about myopia. The organization analyzed two main sources of data: an online survey that was sent to parents of children under 18 years old, and Google trends that tracked the ongoing searches related to myopia.
Now, GMAC has released the results from this two-year study, and there were several key takeaways:
Parents have increased their awareness of myopia and nearsightedness, and the COVID-19 pandemic likely played a role in this.
There were significant peaks in online searches for myopia around the back-to-school season.
While awareness of myopia is growing, there is still more education that needs to happen for parents.
Overall, many misperceptions about myopia have changed in recent years, thanks in part to the publication of new research and science-based articles.
The work showed that Google searches for myopia and related terms are on the rise. This includes phrases such as: "what is myopia," "what does myopic mean," and "myopia in children," among several others. While the overall myopia-related searches have remained high, the increased search peaks in 2020 are noted to correspond with GMAC's four awareness campaigns.
GMAC Board Chairperson Dr. Juan Carlos Aragón said, "We are really pleased with the increase in public awareness we are seeing from 2019 to 2021 and that our campaigns have helped drive part of this. There is still work to do to help parents understand how to both prevent and treat myopia, so the mission of GMAC is more important than ever."
GMAC also learned that announcements of new myopia-related treatments and technologies and vision health events helped to spread awareness of myopia and increase online searches. For example, posts about Virtual Eye Health Week and announcements about CooperVision's MiSight 1 day contact lenses' FDA approval led to spikes in online traffic related to myopia management.
In terms of what parents already know about myopia, nearly 60% of the survey respondents were able to clearly define the condition. However, when it comes to how familiar parents are with myopia as a whole, 22% of parents weren't familiar with it at all, and 20% weren't very familiar with it.
This study also assessed parents' views on comprehensive eye exams and myopia. Between 2019 and 2021, parents' concern about myopia increased, as did the understanding that nearsightedness can impact children in day-to-day activities. Parents' belief in scheduling comprehensive eye exams to monitor myopia progression also increased over the course of the study. Additionally, nearly 55% of parents said that they'd ask about available myopia treatments at their child's next eye exam, which is up from 47% in 2019.
Overall, myopia-related education initiatives have improved parents' understanding of myopia and their willingness to seek out information about the condition, and they emphasized the importance of comprehensive eye exams. Continuing these efforts will help spread this awareness even further and work to improve children's long-term eye health.