September 22, 2022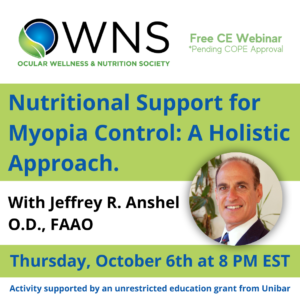 MASSAPEQUA PARK, New York — The Ocular Wellness and Nutrition Society (OWNS) will host a webinar on "Nutritional Support for Myopia Control: A Holistic Approach" on Thursday, October 6, at 8 pm.
"Nutrition affects all aspects of our health, and the eyes are no exception. Eye care practitioners tend to focus solely on the ocular structure but might forget that the eyes are a direct connection to the brain and central nervous system. Changes in the structure and function of the eye can be attributed to nutritional as well as lifestyle factors," according to OWNS.
"While myopia was once considered a benign refractive condition with an inherited link, and wearing glasses to compensate for visual clarity was the only option for patients, this course will review some nutrition basics and review the science of how these nutrients can affect the onset and progression of myopia."
The webinar will be led by Jeffrey R. Anshel, OD, FAAO, and is currently pending COPE approval. It is supported by an unrestricted education grant from Unibar Corporation. For more information, including how to register, click here.