April 12, 2021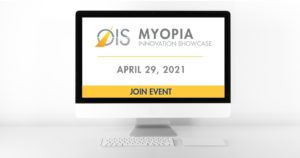 CLICK HERE to view the presentation after April 29, 2021.
The Ophthalmology Innovation Summit (OIS) will host a virtual Myopia Innovation Showcase, April 29. The three-hour session will kick off with Matt Oerding, co-founder of Treehouse Eyes and GMAC board member, giving a general overview of the myopia management market.
Then, representatives from several companies will share the work they're doing to address the myopia epidemic and advance myopia management research. Attendees will hear from: Thomas Chalberg, CEO, SightGlass Vision; Bala Ambati, MD, PhD, CEO, iVeena Delivery Systems; Ran Yam, CEO, NovaSight; Nitin Jain, VP of marketing, Euclid Systems; Patrick Johnson, Chief business officer, Sydnexis; Ryo Kubota, MD, Kubota Vision; Andrei V. Tkatchenko, MD, PhD, Dioptragen; and Barry Linder, MD, MS, Reopia Optics.
That will be followed by two panel discussions, one moderated by the Chief Medical Officer of SightGlass Vision, Joe Rappon, OD, and the other moderated by Review of Myopia Management's Chief Medical Editor Dwight Akerman, OD, MBA, FAAO. These panels will feature leading experts in the eye care industry, including Kathryn Richdale, OD, PhD, from the University of Houston College of Optometry, Kevin Chan, OD, MS, FAAO, from Treehouse Eyes, and Robert Kipling, MD, from Bausch & Lomb.
Though the event is virtual, it will wrap up with a networking session, where those in attendance will have the opportunity to mingle with fellow ECPs and learn as much as they can from the event's speakers.
The goal of OIS meetings has always been to facilitate meaningful conversations between industry and clinical leaders in the hopes of furthering therapies and treatments for unmet clinical needs. Now, by adding meetings geared toward specific ophthalmic specialties, such as dry eye, glaucoma, and myopia, among several others, the OIS meetings are expected to be an even more comprehensive educational experience.
The OIS Myopia Innovation Showcase will be held Thursday, April 29, 1:00 p.m. – 4:00 p.m. EDT. To learn more and register for the event, click here.