June 15, 2021
By Ran Yam, Prof. Michael Belkin, MA, MD, Liran Adlin, Nancy LeBosquain
The therapeutic principle is similar to the one used by other optical treatments, which incorporate a peripheral myopic blur; however, with NovaSight's solution, the correction is dynamic.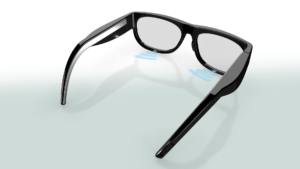 NovaSight is a growing Israeli company specializing in eye-tracking-based children's vision care solutions. Pioneers at integrating innovative technology into pediatric vision care, the company's two product lines are divided into vision treatment and vision diagnostics. Common among all the products is eye-tracking technology, which monitors eye position and gaze direction about 90 times per second and results in objective and accurate tests.
Recently, NovaSight has used this technology to develop a myopia management spectacle lens: ActiveGlass. With other myopia management spectacle designs, the wearer's vision gets distorted with relatively small eye movements. However, NovaSight is focused on solving this problem by developing the first pixelated lens wearable treatment. ActiveGlass is a patented eye-tracking-based myopia management spectacle that dynamically maintains clear vision at all times.
Taking Myopia Treatment to the Next Level
By integrating miniature cameras that continuously monitor eye position, ActiveGlass combines eye-tracking technology with a digital pixelated active lens that allows for creating optical patterns on the lens. The therapeutic principle is similar to the one used by other optical treatments, which incorporate a peripheral myopic blur; however, with NovaSight's solution, the correction is dynamic. Therefore, it keeps vision clear through all gaze directions and at all times.
ActiveGlass is currently in the development phase with a lab prototype and a granted patent for children who would like to maintain an active lifestyle. NovaSight is planning to launch a pilot study with the ActiveGlass next year, and you can expect to see these hit the market in the next two to three years.
Next-Generation Device Monitors Myopia Progression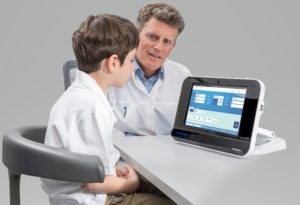 On the diagnostics side, NovaSight's EyeSwift is a kid-friendly eye-tracking-based vision assessment device that is already commercially available and distributed globally by EssilorLuxottica. This unique device currently provides 11 different vision tests, including visual acuity, eye misalignment, amblyopia test, binocular vision, and reading analysis.
The second-generation device, the EyeSwiftpro, will be of special interest to myopia management specialists. It can monitor myopia progression via a propriety eye-elongation measurement in addition to performing retinal disease detection, an automated visual acuity test, and binocular vision analysis.
The new device will offer expanded functionality and new tests to complete a comprehensive, end-to-end vision assessment. With its additional testing capability, the EyeSwiftpro will also appeal to neuro-ophthalmologists, pediatricians, urgent care specialists, and occupational and sports vision therapists. This product is expected to be out in 2022.
Making Screen Time Healthy
NovaSight is also expanding its vision care arsenal with another pipeline product called TrackSight. This consumer application runs on commercial tablets and laptops and relies on the in-device camera to track eye movement. It's designed for both children and adults; parents can order it for their children to detect vision disorders, provide vision monitoring including myopia monitoring, and evaluate their children's head tilt and seat positioning in front of screens. The application can also be beneficial in the workplace, where employers can acquire it for employees who spend a lot of time in front of screens in order to ensure screen work safety.
TrackSight has two main functionalities: real-time alerts and periodic vision monitoring. TrackSight alerts users when healthy screen usage is jeopardized due to extensive screen time or when sitting too close or poorly positioned in front of the screen. Users will also receive alerts when the application detects eye fatigue based on eye movement characteristics.
Similar to the EyeSwiftpro, the periodic tests performed feature myopia monitoring based on automated visual acuity tests and eye elongation measurements. In addition, TrackSight offers a comprehensive eye-tracking-based reading analysis, which can monitor the progression of a child's reading ability and can be administered by both teachers and parents.
Currently in the R&D stage, TrackSight will target anyone who spends time in front of a computer and values healthy screen time. NovaSight is exploring partnerships with major tech players to implement the technology into their hardware, with market release expected in 2022.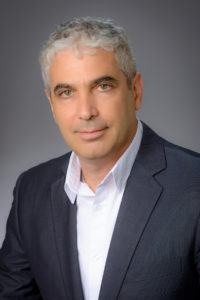 Ran Yam is an experienced executive, entrepreneur, and inventor with vast knowledge and experience in developing multi-disciplinary products, with specific expertise in products that incorporate optical systems. He holds a Mechanical Engineer (B.Sc) degree from the Technion (cum laude) and is owner of four patents, with additional pending patents. He possesses vast experience in bringing products from the concept level to the full, multi-million-dollar, mass production scale.