SPONSORED BY ALCON
October 17, 2022
By Alan Landers, OD, MS, and Carla Mack, OD, MBA
ECPs have a professional responsibility to counsel children and their parents on preventative myopia strategies. Doing so can lead to lasting changes to children's long-term eye health.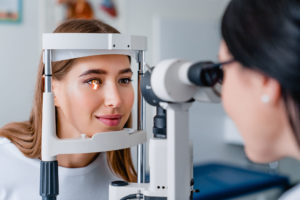 Several factors can impact the likelihood that a child develops myopia — and the rate at which that myopia progresses. Eye care practitioners must encourage children to adhere to myopia prevention strategies that can potentially be protective against myopia and reduce the risk of eye health complications later in life. While genetic and non-genetic factors may come into play, it's essential to understand the measures that can be adopted to promote better visual health. 
Here are some of the strategies that eye care professionals can suggest to patients and their parents to prevent the progression of myopia. 
Apply the WHO Guidelines for Children Under 5
In 2019, the World Health Organization (WHO) released guidelines on physical activity, sedentary behavior, and sleep for children under the age of 5. Applying the recommendations in the WHO guidelines during the first five years of life may reduce the incidence of myopia in children and will contribute to children's motor and cognitive development and lifelong health. 
The guidelines are divided among different ages: infants less than 1 year old, children 1 to 2 years old, and children 3 to 4 years old. The WHO recommends that children under the age of 2 aren't exposed to screens, while children between the ages of 2 and 4 have no more than one hour of screen time each day. The guidelines also encourage children to stay active, engage in playtime and reading with caregivers, and follow age-appropriate sleep schedules. Additionally, parents are encouraged to monitor their children's eyesight and eye health with yearly comprehensive eye exams. 
"Over the course of a day, a combination of more physical activity, less sedentary screen time, and longer sleep duration results in the greatest benefits," the report states. "These guidelines are intended to assist all countries in the development of national plans and programs aimed at increasing levels of physical activity, reducing sedentary time, and improving time spent sleeping in young children." 
More Time Outdoors and Less Time on Screens
A great deal of myopia research has explored the link between outdoor time, digital device use, and myopia progression. 
Angelica Ly from the Brien Holden Vision Institute (BHVI) recently wrote an article about how much outdoor time children require to have the most significant visual health outcomes. Dr. Ly points to papers published in the International Myopia Institute's (IMI's) 2021 White Paper series for evidence of the benefits of kids spending more time outdoors. She explained that outdoor time is the only protective factor translated into a proven preventative intervention. Spending more time outdoors may offset the impact of parental myopia and high levels of near work. 
In terms of concrete numbers related to outdoor time, the more time, the better. Dr. Ly found that children who spend at least 13 hours per week outdoors are much more likely to develop myopia than children who spend more than 22.5 hours per week outdoors; this translates into just over three hours per day of outdoor time. However, increasing kids' outdoor time by 76 minutes daily may reduce their risk of myopia in half. 
Similarly, the more time kids spend on digital devices, the higher their risk and severity of myopia. A recent global study conducted by Foreman, et al. examined more than 3,000 studies related to screen time and myopia in children and young adults between the ages of three months and 33 years. The study showed that the more time kids spent on digital devices, the earlier they were introduced to such devices, the higher their risk of developing myopia, the more severe their myopia was likely to be, and the greater their axial elongation. The findings highlight the importance of ECPs educating patients and their parents about the risks of excessive screen time. 
Follow the 20-20-2 Rule
Spending a great deal of time near work — whether doing homework, reading, or scrolling on social media — can take a toll on the eyes. To help combat some of this eye stress, Professor Caroline Klaver and the Erasmus University Myopia Research Group recommended following the 20-20-2 Rule. After 20 minutes of close work, children should gaze at an object in the distance for at least 20 seconds and be outside intermittently for at least two hours per day. This builds off of earlier guidance — the 20-20-20 Rule, which encouraged children to take a 20-second break every 20 minutes of near work by looking at something 20 feet away. 
However, kids will likely improve their eye health by incorporating more outdoor time. The two hours each day can be broken up into several different activities and in different increments of time. Time spent outside at recess, sports practice, or riding bikes after school all adds up and improves kids' eyesight. 
Limit Near Work
Another vital factor is near work. Experts recommend that kids limit their near work to three hours per day and school time. Additionally, holding the book or device at least 12 inches away from the face is recommended for reading or using a digital device. 
Huang et al. published a study in the British Journal of Ophthalmology that explored this concept in-depth. The trial included over 10,700 emmetropic and myopic children between the ages of 9 and 11, who underwent eye exams every six months for two years. Their parents also reported on their visual behaviors, including outdoor activity, longer near-work distances, and breaks from near work. Ultimately, the most significant protective benefit was observed when kids kept books or digital devices at least 12 inches (or 30 cm) away from their faces; the further the distance from their eyes, the greater the protection. 
Prioritize Prevention
While genetic factors can impact children's risk and severity of myopia — family history, age, etc. — as recent research has revealed, lifestyle factors are also essential. ECPs have a professional responsibility to counsel children and their parents on preventative myopia strategies. Doing so can lead to lasting changes to children's long-term eye health.  
| | |
| --- | --- |
| | Dr. Alan Landers is the Head of Search and Evaluation — Business Development and Licensing at Alcon. Alan is responsible for identifying and leading scientific assessments for external technologies which are aligned with Alcon's strategic priorities. Alan has held leadership roles in R&D and in clinical innovation where the primary focus was aimed at understanding contact lens-eye interactions to develop breakthrough products of the future. Prior to joining Alcon, Alan was a professor at Southern College of Optometry (SCO). While at SCO, he was the Ocular Physiology course instructor and a staff doctor for the contact lens and the primary care services. Alan earned his Doctor of Optometry and Master of Science degrees from the University of Alabama at Birmingham. He is a Fellow in the American Academy of Optometry and a licensed Optometrist in Texas. |
| | Dr. Carla Mack is the Global Head of Professional Affairs — Vision Care Franchise at Alcon. Carla is responsible for leading the Professional Affairs strategy and bringing the voice of the Eye Care Professional to Alcon's development pipeline. She has held leadership roles in professional marketing and communications and medical affairs. Prior to joining industry, Dr. Mack was a professor at The Ohio State University College of Optometry and Clinic Director of the OSU Campus Optometry Services. While at OSU, she examined thousands of patients and taught courses in glaucoma management, specialty contact lenses, and practice management. She has served as the chief editor of Contact Lens Spectrum and the Contact Lenses Today e-newsletter. Dr. Mack completed a hospital-based disease residency and earned both her Doctor of Optometry and her Master of Business Administration degrees from The Ohio State University. She is a Diplomate in the American Academy of Optometry Section on Cornea, Contact Lenses, and Refractive Technologies. |
©2022 Alcon Inc. 09/22 US-MYP-2200001