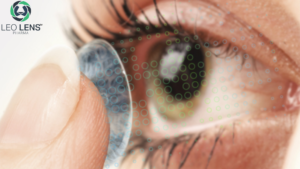 SAN DIEGO – Leo Lens Pharma has received a notice of allowance from the U.S. Patent and Trade Office for a patent to use its proprietary MediPrint process to manufacture a contact lens capable of providing enhanced myopia management.
The novel product will allow patients suffering from or at a high risk of developing myopia to wear a contact lens that can automatically and continuously deliver a drug to control myopia, such as low-dose atropine, to the patient's eye. The MediPrint process is compatible with a variety of base contact lenses, allowing Leo Lens Pharma to pair its drug delivery technology with contact lenses designed to help slow the progression of myopia.
While the use of contact lenses in myopia management is not new, Leo Lens Pharma aims to be the first company to pair contact lenses with the continuous delivery of drugs shown to help with myopia management.
"Myopia is a growing epidemic affecting over 2.5 billion people globally, and we are excited to be working on a solution that could have a beneficial impact to a growing number of young patients with myopia," said Praful Doshi, founder and chief technology officer. "Fortunately, this patent and development effort will benefit from the learnings out of our more immediate focus to help protect sight in the glaucoma market with a weekly continuous dosing therapy made possible by our unique MediPrint process."
While this new patent expands Leo Lens Pharma's intellectual property portfolio, the company's lead proprietary asset is a lens to treat glaucoma.