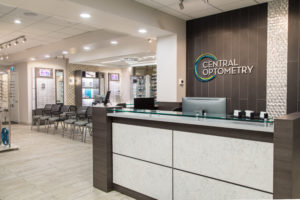 May 3, 2021
By Wes McCann, OD, Central Optometry 
As an eye care professional, I'm always trying to find ways to better serve my community, my patients, and any potential patient who comes into our practice. About a year ago, myopia management started gaining traction in our area in Ontario, with more and more patients coming in and asking questions about myopia. What started out as casually fitting children with CooperVision's MiSight 1 day contact lenses turned into a full clinic's worth of services and therapies designed specifically for treating the growing number of myopic children in our area.
While our offices had developed tools and strategies to treat common eye conditions such as age-related macular degeneration (AMD) and dry eye, we had nothing addressing our pediatric patients. As a family-oriented practice, and with several schools in our area, our doctors had considerable interest in tackling something new in the disease pathology realm geared toward the pediatric population. Over the last year, we've developed a complete myopia management protocol and have worked to market for our services and educate our patients and their parents.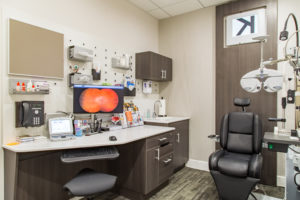 We also purchased the necessary equipment to ensure that we were positioning ourselves to treat myopia as effectively as possible. The newest device we've added to our practice is the Zeiss IOL Master, which we use to take axial length measurements. While we already had a topographer and Zeiss Clarus for retinal images, they now serve different purposes when evaluating myopia patients. We use the Oculus Keratograph 5M topographer for baseline topography and to monitor patients for corneal ectasia and keratoconus. We use the Clarus to measure peripheral retinal health changes, because axial myopia can make retinal holes and tears more likely and increase the risk of myopic maculopathy. With the right tools, we have the best opportunity to assess our patients and give them the most comprehensive myopia treatment plan.
Picking the Right Treatments
Because of the alarming prevalence of myopia worldwide, new research is consistently being published, and new products and treatment options are becoming available. When we first started offering myopia management treatments at our practice, we gravitated more toward the MiSight 1 day soft contact lenses, because that's what our patients and their parents were the most familiar with. OrthoK lenses were always an option, as was low-dose atropine, but we always gauge what patients feel the most comfortable with.
One treatment option that many patients – especially young patients – have been gravitating toward is the Hoya MiyoSmart* spectacle lens. When I'm consulting with and treating patients with myopia, I always want to best utilize the tools in my toolbox. MiyoSmart lenses provide another great tool to treat as many patients as possible as best I can. When patients are four or five or six, they may be skeptical of putting in contact lenses every day, or their parents are concerned about them sleeping in contact lenses. A lot of practitioners are even hesitant to fit patients for contact lenses from such a young age. Young patients and their parents are comfortable with spectacle lenses. They're familiar with spectacle lenses, so having the MiyoSmart lenses as an option can start that myopia management journey even earlier.
In looking at all of the myopia management interventions available to Canadian ECPs, one of my main goals when assessing treatment options is to determine what I think each patient will have the most success with. At the end of the day, kids are kids. I want to make choices where I know the patient will be consistent, and the treatment is something that can be easily adapted into their lifestyles. That's also what's been so beneficial about MiyoSmart spectacles; there's easy repeatability between each patient who has utilized them, and they've been a great addition to our myopia management offerings.
I also think it's important to consider each patient individually. While we typically like to try one myopia treatment option at a time, depending on the efficacy of that treatment and the patient's individual needs, sometimes multiple therapies are the best route. That's why educating patients and their parents during the myopia management eye exam is so important, because we have the opportunity to explain every option clearly and what it entails. We know that kids need to be wearing MiSight contact lenses for at least 10 hours a day for six days a week. If the child isn't going to do that successfully, MiyoSmart becomes an option. Or, if the kid is really into sports, we're going to try a mixed model where the child can be in MiSight lenses when they have practice, or they're at a game, but they can also have the MiyoSmart lenses so they don't have to be in contacts all the time. If kids are progressing faster than we'd like using the MiSight or the MyioSmart lenses, we might consider incorporating low-dose atropine into their myopia management regimen. It isn't easy to pigeonhole young kids into one specific thing, so again, determining which option – or set of options – will help to slow their progression the most is always the goal. Myopia management is an ongoing process, so we're always open to changing the treatment plan depending on the patient's progress.
Looking to the Future
Now that we're over a year into our myopia control practice, I can already see the progress we've made in a number of our patients. While we don't have the longevity yet to determine just how successful these interventions have been, it's been so rewarding to hear from parents who are excited that we're offering these services and that there's hope for their kids' eyesight to be better than their own. Parents feel relieved that they have these options now, and as a parent myself, you want the best for your kids no matter what. Being able to offer something to those who may have thought they have no hope, and now there's some light, is incredibly rewarding.
*Hoya MiyoSmart spectacle lenses have not yet been FDA approved in the U.S., but they are available in Canada, where Dr. McCann practices.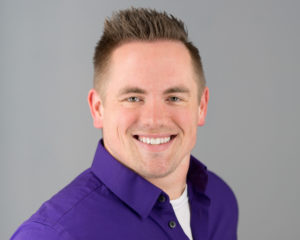 Dr. McCann attended Western University and Nova Southeastern University, where he earned three Honours Bachelor of Science degrees, an accelerated MBA, and Doctorate of Optometry. Dr. McCann owns six practices in Ontario and is a professional consultant for Johnson  & Johnson.  He has served on the Board of Directors for the Ontario Association of Optometrists from 2016-2018. In 2017, he was a recipient of the Top 20 Under 40 Award recognizing him for business achievements and community involvement in London Ontario.