sponsored content
August 15, 2022
By Justin Kwan, OD, FAAO
In a world where 80% of classroom learning is visual and childhood myopia is growing in prevalence and severity, you can share these three eye health lessons with patients and parents during the back-to-school season.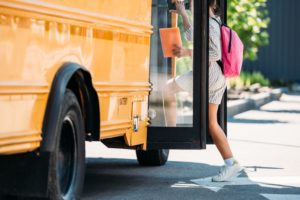 It's that time of year when parents and children shop aisles of brightly colored bookbags and pencils with back-to-school lists in hand. However, one key factor in a child's success isn't likely to be on the list — a comprehensive eye exam. 
The World Council of Optometry's call to mitigate, measure, and manage myopia places eye care professionals on the front lines of change. In a world where 80% of classroom learning is visual1 and childhood myopia is growing in prevalence and severity,2 you can share these three eye health lessons with patients and parents during the back-to-school season.
Lesson 1: Mitigate
The journey starts not with a myopia diagnosis but with reducing risk factors for myopia development. Before you even have a child with myopia in your exam room chair, start educating the parents of young patients, as well as adult patients who have young children at home (even grandparents). 
With the help of the CooperVision Nearsightedness Assessment Tool, walk them through myopia risk factors from genetics to time spent indoors engaged in near work. Lifestyle choices such as spending more time outdoors can reduce the risk of developing myopia by approximately 45%.3
Lesson 2: Measure
When communicating with parents, emphasize the importance of annual comprehensive eye exams for their children. Routinely measuring refractive error and, whenever possible, axial length, can help spot signs of pre-myopia or diagnose myopia as soon as it appears. 
If you find that a child has already developed myopia, the CooperVision Myopia Simulator can help parents understand how their child sees and what the world may look like through their eyes as it progresses. 
Don't wait to observe further progression before prescribing treatment. Preventing even one diopter of myopia progression could lower the risk of myopia maculopathy by 40%, the risk of open-angle glaucoma by 20%, and the risk of visual impairment by 20%.4
Should a parent decide not to opt for myopia control after the child's initial diagnosis, recommend that they come back in three to six months for follow-up measurements. Minimizing any level of myopia progression by intervening as early as possible is crucial. The younger the child, the faster the myopia progression. Kids grow fast! 
Lesson 3: Manage
When it's time to prescribe myopia control, the FDA approval* and unparalleled seven-year clinical study behind MiSight 1 day contact lenses should lend confidence to parents. MiSight 1 day's newly expanded range now covers nearly 100% of spherical prescriptions for age-appropriate* children.†5 However, if the child is still not a candidate for MiSight 1 day, Paragon CRT and iSee orthokeratology lenses for myopia management are also options parents can consider. Most important is that a child with myopia begins treatment as early as they can.
This back-to-school season, you can give a little homework too. To reinforce information you've shared in the exam room, refer parents to the MiSight digital ecosystem. Through the stories available across MiSight.com, YouTube, Instagram, and Facebook, parents, and age-appropriate* children can learn from the experiences of families like theirs and get tips for successfully adapting to contact lens wear. 
A myopia diagnosis may catch parents off guard like a pop quiz, but with your help, they'll pass with flying colors. 
| | |
| --- | --- |
| | As Senior Manager of Myopia Management at CooperVision, Justin Kwan, OD, FAAO, is responsible for supporting myopia management programs in partnership with eye care professionals across the U.S. and Canada. Dr. Kwan is also the current president of the Chicago North Side Optometric Society, chair of the American Academy of Optometry Fellows Doing Research special interest group, editor-in-chief of Clinical and Refractive Optometry, and a reviewer for many professional journals. He is a 2009 graduate of the University of California, Berkeley, and he has completed a dry eye and contact lens research fellowship/residency at SCCO. |
References
*Indications for use: MiSight 1 day (omafilcon A) soft (hydrophilic) contact lenses for daily wear are indicated for the correction of myopic ametropia and for slowing the progression of myopia in children with non-diseased eyes, who at the initiation of treatment are 8-12 years of age and have a refraction of -0.75 to -4.00 diopters (spherical equivalent) with ≤ 0.75 diopters of astigmatism. The lens is to be discarded after each removal.
† Includes prescriptions up to 0.75DC.
1 UCLA study: Impact analysis of vision to learn. Vision To Learn. (2018, January 15). https://visiontolearn.org/impact/ucla-study-impact-analysis-of-vision-to-learn/#:~:text=As%20background%20research%2C%20UCLA%20doctors,can%20be%20corrected%20with%20glasses.
2 Holden et al. Global Prevalence of myopia and high myopia and temporal trends from 2000 through 2050. Ophthalmology 2016. 123(5):1036-1042
3 Xiong S, Sankaridurg P, Naduvilath T, et al. Time spent in outdoor activities in relation to myopia prevention and control: a meta-analysis and systematic review. Acta Ophthalmol. 2017;95(6):551-566. doi:10.1111/aos.13403
4 Bullimore M. Myopia Control: Why each diopter matters. BCLA 2019 Poster.
5 CVI Data on file, 2022. SERE coverage of childhood myopia prescriptions with MiSight 1 day for 104,810 eyes in Asia (China, Korea) and 116,336 eyes in Europe and USA aged 8-18 years.