December 2, 2022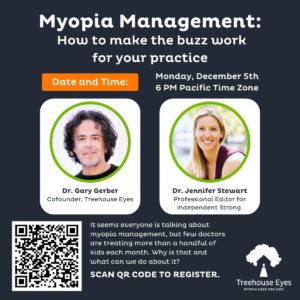 BOULDER, Colo. — Treehouse Eyes will host a myopia management webinar on Monday, December 5, at 6:00 pm Pacific. The session is entitled "Myopia Management: How to Make the Buzz Work for Your Practice," and it will be hosted by Gary Gerber, OD, Co-Founder of Treehouse Eyes, and Jennifer Stewart, OD. Dr. Stewart currently serves as the Professional Editor of Independent Strong, and she was recently named a 2022 EyeCare Business Game Changer Awardee.
Despite the popularity of myopia management, few ECPs are actually treating it. In this webinar, Drs. Gerber and Stewart will discuss why that is and what can be done about it. This lively, interactive discussion will also cover how practitioners can bridge the gap between, "That's a good idea, I should do it," and actually starting to do it or do more of it. Webinar attendees will be able to share during the session what is or isn't working in their own myopia management practices, and they will get answers to some of the most difficult questions about this specialty from experts in the field.
"Myopia management seems to be one of those things that lots of doctors talk about but very few practice," Dr. Gerber said. "We'll talk about the reasons why and how to overcome the commonly heard obstacles and why NOW is the perfect time to bring this important specialty into a practice."
"Practitioners looking to increase the success of their private practices are realizing that adding a specialty helps differentiate them and adds an additional patient base," Dr. Stewart said. "I'm looking forward to my conversation with Dr. Gary Gerber about best practices for myopia management in independent eye care practices."
This is not a CE event, so there is no time limit within which to deliver practical, real-life practice tips. Due to the format of this unique event, attendance is strictly limited, so those interested must register for the webinar in advance. 
More information about the event, including how to register, is available here.