December 1, 2020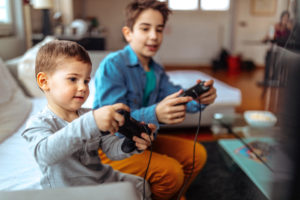 The Global Myopia Awareness Coalition (GMAC) is continuing its gaming-themed summer program, "Game On: Battling Myopia in Real Life," with a new Game On 2.0 campaign. Four influencers with a combined audience of more than three million followers will post content live by the end of this year that can be shared through March 30, 2021. The content will drive users to the new GMAC webpage, scheduled to go live early December.
GMAC is saying #GameOverMyopia by enlisting influencers to spread awareness about myopia through gaming. Popular parents and gamers will be reaching the GMAC audience right where they are, in the digital/gaming world, to spread awareness about myopia in their online video streams. The catch? The gamer influencers will be playing games with an eye doctor to discuss how screen time relates to myopia!
The campaign will feature GMAC spokesperson, Millicent Knight, OD, playing popular video games with influential gamers, Mr. Bee and Atomic Mari! Two well-known parents, Mikayla Shocks and Heather Brooker, will also be posting about their family's screen time through gaming.
The social media campaign and #GameOverMyopia hashtag originally launched in June, focusing on helping parents balance virtual school and work with other screen time, such as watching TV and playing video games.
GMAC is organized under the World Council of Optometry (WCO), and includes companies in the eye care industry: Alcon, Bausch + Lomb, CooperVision, Essilor, Euclid, Hoya, Jobson Medical Information, Johnson & Johnson Vision, Menicon, Nevakar, Oculus, PentaVision, Sydnexis, SynergEyes, and Visioneering Technologies, Inc.
For more on GMAC's Game On: Battling Myopia in Real Life social media campaign, listen to Review of Myopia Management's interviews with GMAC Board Chair Matt Oerding and GMAC spokesperson Millicent Knight, OD.