August 25, 2021
SYDNEY, Australia — The International Myopia Institute (IMI) has released a new infographic for eye care professionals based on the findings from the 2019 and 2021 IMI White Papers. The resource, which is called the IMI Facts and Findings Infographic, was designed to spread awareness about myopia, while also serving as a helpful tool for practitioners to utilize chairside that provides key myopia management evidence-based information.
"This carefully crafted infographic summarizes some of the key evidence-based findings of the International Myopia Institute's White Papers; it can be used by eye care practitioners to communicate these to involve patients in their management," said IMI's Chief Scientist Professor James Wolffsohn.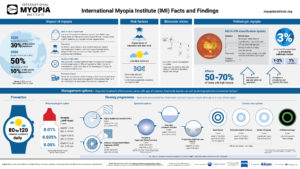 The IMI White Papers were written by experts in the myopia field and include information on: definitions and classifications, genetics, experimental models, interventions, risk factors, impact of myopia, accommodation and binocular vision, myopia control trials and instrumentation, industry guidelines and ethical considerations, pathologic myopia, clinical management guidelines, and a yearly digest update.
"We are excited to share a much-needed resource that will be used widely by practitioners around the world in supporting evidence-based myopia management," said IMI Executive Director Dr. Monica Jong. "The IMI Facts and Findings Infographic will help to support practitioner-patient communication, which is a critical part of successful myopia management."