March 3, 2022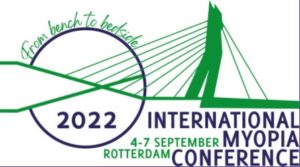 ROTTERDAM, The Netherlands — Registration for the International Myopia Conference (IMC) has officially begun, with early bird registration running through July 16. The four-day event will cover some of the most important topics in the field of myopia management, including experimental models, pharmacological interventions, smartphone use and near work, and myopic complications, among several others.
To be held September 4-7, 2022, in Rotterdam, The Netherlands, the 18th IMC will be hosted by the Erasmus Medical Center at the De Doelen, a state-of-the-art convention center in the heart of Rotterdam. The event will be chaired by the International Myopia Institute (IMI) Committee Leader and Member, Professor Caroline Klaver. This upcoming event is several years in the making, as the IMI postponed the event in 2021 due to travel restrictions amidst the ongoing COVID-19 pandemic.
In addition to registration, abstract submissions for the IMC are also now open. ECPs are invited to share ideas on fostering collaborations, connections, and political actions required to place myopia at the top of the global health agenda at the International Myopia Conference. Those interested in submitting an abstract can learn more here.
To register for the International Myopia Conference, click here.  To receive future updates about the International Myopia Conference, click here.