September 15, 2021
By Michael Dittman, OD; Dittman Eyecare, Butler, PA
My associate doctors and I do our best to educate parents about myopia management and why accepting something just because it always has been this way is not necessarily the best for their children.
My career in optometry began in West Virginia in the early 2000s. Now, nearly two decades later, I run three practices in Pennsylvania, though my journey into myopia management started in 2014. My interest in the field grew after attending Vision by Design that year. My focus then was on orthokeratology and the visual benefits of prescribing night lenses instead of proper myopia management. At the time, I was interested in adding another service to our practice, and I quickly realized that myopia management was the future of our profession. To provide the best care for children, we needed to become more diverse with our options. 
Now, we're able to offer our myopic patients low-dose atropine, OrthoK lenses, and soft multifocal contact lenses. When deciding on a treatment plan, I consider the patient's age, presenting refractive error, steepness of the cornea, and willingness to wear contacts. As a general rule of thumb, we use low-dose atropine for kids who do not want to wear contacts, very young children, or children who have a very high refractive error or significant astigmatism. I usually go with soft multifocal lenses if they're comfortable wearing contacts, have very flat corneas, or have a refractive error less than -2.00D. If a patient is between -2.00D and -6.00D and has an average or slightly steep cornea, I usually recommend OrthoK lenses. If a candidate is eligible for all three treatments, I typically go with OrthoK lenses because they give me more customizable options. 
The Importance of Parent Education
Since I've started recommending myopia management, I've focused on educating parents about the various treatment options and the risks of untreated myopia. Parent education is one of the biggest challenges we face with myopia patients. Most parents are unaware of myopia management and why it is important. To them, getting stronger glasses is normal and acceptable. My associate doctors and I do our best to educate them about myopia management and why accepting something just because it always has been this way is not necessarily the best for their children.
The balancing act is to educate parents without going into too much detail and losing them. Our number one focus is to capture the kids that are high risk based on refractive error and under the age of six (even if they are hyperopic but less hyperopic than they should be for that age). My feeling is if we can get these parents to be aware of myopia management when their child is two, and mom, dad, or both are highly myopic, we can talk about lifestyle to prevent myopia and talk about the potential for myopia management for their child if the need is there. 
The Myopia Matters Club
To better educate parents about myopia management and keep the communication about myopia open for all patients, I started the Myopia Matters Club over the last year. The Myopia Matters Club is a separate branch within our office, so parents and people in our community realize our expertise in this area. 
Within the club, we have two programs that patients can enroll in. There's the club itself, which is when we actively start myopia management treatment, and enrollment lasts for two years. Our fees aren't based on a specific treatment type, which has allowed us to have more effortless conversations with parents. We can discuss the different kinds of treatment and make our recommendations without parents feeling forced to decide based on cost. The two years are critical because it allows us to get parents to commit and ultimately get better results for their children. 
We also have our Observation Club, which comes with a much smaller fee. We measure the patient's axial length during their annual exam and included it in the club's price. The child will come back in six months to do another evaluation and repeat all of the measurements. I believe this is the future as we can enroll kids at high risk of becoming myopic, or for parents who are not ready to start myopia management, we can evaluate change and form a growth chart. If we see progression, then we have better data to determine our course of action.
From an educational standpoint, the Myopia Matters Club has a website that includes a risk questionnaire form for parents and referring physicians to fill out. We also have profiles on Facebook, Instagram, and YouTube, which is how we try to get the word out and educate parents. Since starting the Myopia Matters Club, we've also had a local marketing team create customized business cards and brochures with QR codes that link straight to our social media channels. I always try to share resources with parents, such as Brien Holden Vision Institute, Review of Myopia Management, MyMyopia.com, and Myopia Profile. 
Opportunities for the Future
Looking to the future, I'm hoping that the Myopia Matters Club can continue to grow and benefit our community's children. One of my primary goals is to solidify this process and establish a uniform approach to bring it to all three of our practices. Then, I'd like to reach out to other optometrists, ophthalmologists, pediatricians, and school nurses in our area to try and get referrals to our practice. I'd also like to contact other optometrists who understand the importance of myopia management but don't offer the services themselves. We'd be able to bring the Myopia Matters Club to them and expand the reach of our patient care. 
I genuinely believe that myopia management will become the standard of care. Now is the most challenging time as we are trying to shift how optometrists and parents think about myopia – not as a refractive error but a disease. If this becomes more commonplace and we continue to get more FDA-approved treatments, I believe the conversation with parents will become easier, which is the biggest battle for many myopia management practitioners.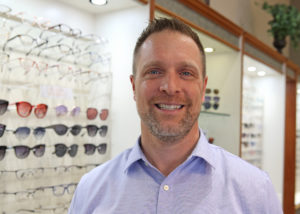 Michael Dittman, OD, is the president and owner of Dittman Eyecare. He started the practice in 2003 with one doctor and two staff, and has grown to currently having four doctors, 25 team members, and three locations north of Pittsburgh. Dr. Dittman also recently founded The Myopia Matters Club, which is a separate branch of the office solely focused on myopia management services for children who are myopic or high risk to become myopic.