July 1, 2022
By Katherine Schuetz, OD
We have an ever-growing armamentarium for myopia control; educate your patients and their parents about which option is the best for them, and confidently explain both FDA approval and off-label use.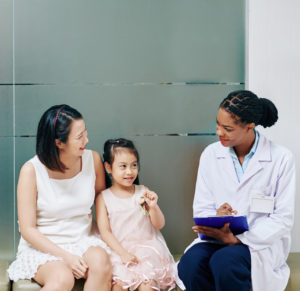 We all like a good stamp of approval, and our patients are no different when it comes to our clinical recommendations. An FDA (Food and Drug Administration) approval gives credence to your treatment approach, creating parental buy-in. But what about when our patient does not fall into an FDA-approved treatment category? Each myopic child is unique, and understanding all interventions for controlling myopia progression means recommending safe, appropriate treatments for the individual, regardless of FDA approval status. Some myopia management treatments are proven effective but are not yet approved by the FDA. Here's how we legally prescribe them using informed consent while also easing parental concerns to ensure their commitment to the treatment.
What Does FDA Approval Mean?
The FDA is responsible for protecting public health by regulating human drugs and biologics, animal drugs, medical devices, tobacco products, food (including animal food), cosmetics, and electronic products that emit radiation.1 This, of course, does not mean that all products with FDA approval have no side effects or will be safe for everyone, but it does mean the benefits outweigh the general risk. Prescribing off-label is a common and legal practice in medicine. This practice is justified when scientific evidence suggests the efficacy and safety of a medication or medical device for an indication that does not have FDA approval and when the practice is supported by expert consensus or practice guidelines.2,3 If we were to poll our profession, I feel confident that 100% of us have prescribed an ophthalmic medication off-label. For example, it is an off-label prescription whenever we prescribe besifloxacin to treat a corneal ulcer. 
How FDA Approval Affects Myopia Treatments
The FDA does not approve compounded medications as a rule. This means that the FDA does not review applications for compounded drugs to evaluate their safety, effectiveness, or quality.1 So, even though atropine sulfate 1% ophthalmic solution has been around for decades and is FDA approved for cycloplegia, mydriasis, and penalization of the healthy eye in the treatment of amblyopia,4 we will not see approval for low-dose atropine as a treatment for myopia while it is a compounded medication. Until non-compounded options exist for use in the U.S., our informed consent for low-dose atropine should communicate that this is an off-label use. A direct conversation with parents can show them that the dosage you prescribe for their child is not based on a rubber stamp approach but instead is based on age, degree of myopia, family history, progression rate, and axial length change. In fact, using the FDA-approved option of 1% atropine would be a disservice to most myopic children, a critical point if you have a parent stuck on the FDA approval.
Another effective treatment to slow the progression of myopia is orthokeratology, but although it has multiple FDA-approved designs, none of those approvals are specific to myopia progression control. That is still good news for providers helping parents of young myopes. We can truthfully share with parents that we have OrthoK designs that are FDA approved as safe, viable treatments for all ages for vision correction. We must stop short of saying that they are specifically FDA approved for myopia progression control. Be sure to word your OrthoK Informed Consent carefully, even though parents generally seem more concerned about the safety of OrthoK for their kids rather than FDA approval for efficacy. You will have to rely on your clinical data or published studies for the efficacy piece, which does not need to be in the informed consent agreement.
Be Clear When Communicating with Parents
There is an FDA-approved option. In the case of CooperVision's MiSight 1 day contact lenses, you can tell parents of a myopic child, "I am going to fit your child in the first and only FDA-approved soft contact lens to slow the progression of myopia." That is powerful, and it is fantastic to have this vetted option. But when you have a patient who is not a great candidate, you can present other options. Off-label soft lens options include CooperVision's Biofinity Toric Multifocal and VTI's NaturalVue multifocal 1 day contact lenses. Again, you should be clear when using off-label options that you have no safety concerns, and you should be able to justify why you are using the non-FDA-approved option for a particular patient.
When armed with the best tools and information, it can be easy to assuage parents' concerns about myopia management. In the U.S., currently, all of our options — except for MiSight 1 day contact lenses — are considered off-label. However, that should not be a barrier to treatment when patients and parents are appropriately informed. We have an ever-growing armamentarium for myopia control; educate your patients and their parents about which option is the best for them, and confidently explain both FDA approval and off-label use.
An example of an informed consent form is available at the following link: University of California, Berkeley College of Optometry, Myopia Control Clinic, Informed Consent for Treatment
| | |
| --- | --- |
| | Katherine Schuetz, OD, is a private practitioner in Carmel, Ind., where she is a full-time clinician, splitting time between seeing pediatric patients at a primary care pediatric practice, Little Eyes, and teens through adults at RevolutionEYES. She is a Brilliant Futures panelist for CooperVision. |
References
1- https://www.fda.gov/consumers/consumer-updates/it-really-fda-approved
2- Wittich CM, Burkle CM, Lanier WL. Ten common questions (and their answers) about off-label drug use. Mayo Clin Proc. 2012;87(10):982-990.
3- Gazarian M, Kelly M, McPhee JR, Graudins LV, Ward RL, Campbell TJ. Off-label use of medicines: consensus recommendations for evaluating appropriateness. Med J Aust. 2006;185(10):544-548.
4- https://www.accessdata.fda.gov/drugsatfda_docs/label/2014/206289s000lbl.pdf