Jan. 2, 2020
By Nathan Bonilla-Warford, OD, FAAO, FCOVD
As a student at Illinois College of Optometry in the early 2000s, I clearly remember taking a walk outside to stretch my legs during a break between lectures. My friend and fellow student Kevin Cassar said, "Think about it. Myopia is one of the most basic problems we face. Why can't we figure out a way to stop this? If we could, it could change everything." This made an impression on me, but I had no answers, so we went back to class.
Then, in 2005, I was completing my residency in pediatric and binocular when I attended a lecture by Earl Smith, OD, from Houston, Texas, on the developmental regulation of refractive error. I had my answer! I cannot think of any single lecture that changed the course of my practice as much as Dr. Smith's did. From that moment forward, I knew that not only was I going to build my future practice to include myopia management specifically, but I was going to take time to educate myself, my staff and others about myopia.
In 2006, my wife (now a licensed optician) and I opened a practice called Bright Eyes Family Vision Care. Initially, I started offering myopia management using only orthokeratology. Over the years, I attended Vision By Design and added multifocal contact lenses and atropine. During these lectures and in the exhibit halls and over drinks, I learned critically important concepts about practice management. Over time, my myopia management evolved from piecemeal services to fully packaged programs with annual service agreements, and I found better patient acceptance, compliance, and clinical results.
Through offering primary eye care, vision therapy, and myopia management, we expanded in 2012, hired an additional optometrist, Elizabeth Knighton, OD. In 2014, we opened a second location exclusively for children. We continued to grow rapidly, and in early 2019, we expanded again – more than doubling the square footage of the flagship practice.
When designing the new location, we took special care to include features to help grow our myopia management:
Desks for additional doctors – As myopia management grows, it takes up more of my schedule previously designated for primary care. Eventually adding a third doctor to provide primary eye care would allow Dr. Knighton and I time to focus on specialty services: myopia management, vision therapy, and sports vision. Additionally, since I am currently a candidate for Fellowship in the American Academy of Orthokeratology and Myopia Control, I could devote a few hours a week to that.
Larger Exam Lanes – Since we see patients of all ages, from infants to adults, we need larger exam rooms to accommodate families. A comfortable couch, child-friendly decor, and specialty equipment allow for better clinical services.
Multiple parent consultation rooms – When presenting recommendations that are not just a new eyeglass or contact lens prescription, the discussion is often more effective in a non-exam room. Having a consultation room reinforces the idea that we are specialists who really care about patient understanding. Additionally, minimal furniture and equipment help parents focus on the conversation.
Multiple diagnostic rooms: Myopia management is a modern, high-tech process requiring sophisticated equipment, as well as advanced clinical training and experience. In our old location, we did not have enough room to place all of this equipment conveniently! Our corneal topographer and A-scan had to be portable and stored in a central office. With this new space, we look forward to a dedicated space for optical biometry and corneal topography.
Extra waiting areas: We see all ages in our main office – including infants presenting for InfantSEE evaluations, families waiting for myopia or vision therapy appointments, and adults coming in for primary care exams. To make everyone's wait more comfortable, we created three separate waiting areas to keep everyone comfortable: a quiet one with lots of chairs, a kids play area with Duplo Legos, and couches near the therapy rooms for families.
Internal Marketing: We have strategically placed a large video screen in the waiting area that repeats educational slides about the services we offer. Additionally, we have space for posters and artwork related to myopia along the hallway to the exam rooms and patient care rooms.
External Marketing: We are receiving more referrals from optometrists for myopia management and want to continue these relationships. In the smaller office, we did not have enough workspace for staff to work on marketing, networking, and outreach. The new office has ample space for staffing.
Contact lens training area: Whether orthokeratology or multifocal soft contact lenses, children and parents require thorough education in the proper insertion and removal techniques and care of their lenses. Because this can be a stressful experience, we have a semi-private contact lens training area with extra seating for families.
Children's optical: Regardless of how we manage a child's myopia, they still need a pair of glasses. So we created a bright and colorful nook in the optical with a variety of frames for kids of all ages. We have frames for infants and toddlers through teens, so many of our patients will grow with us!
Storage space: You can never have too much storage space to stash extra supplies, equipment, copies of educational material, displays, and seasonal items. What a wonderful thing!
What is planned for the future? We want to continue promoting myopia management in the community and among other health care professionals. We lecture to local optometrist and optician groups, educating them on recent research and ways to communicate with patients.
And what happened to my friend Kevin? We still keep in touch. He completed a residency in Cornea and Contact Lens and now practices in Michigan. And, yes, I am happy to report that he does offer myopia management for his patients.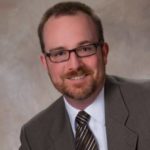 Nathan Bonilla-Warford, OD, FAAO, FCOVD, is the founder and owner of Bright Eyes Family Vision Care and Bright Eyes Kids located in Tampa, FL.