May 25, 2023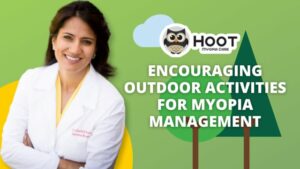 PRINCETON, N.J. — Hoot Myopia Care has released a new automated education tool designed to simplify the myopia education process for both eye care professionals and parents. The new marketing automation system has the capability to help parents with strategies and tips on behaviors that support a child's myopia management program.
"Myopia management isn't only about providing therapies such as OrthoK lenses. It's about helping parents understand behaviors they can change at home which reinforce a comprehensive program recommended by their optometrist," said Dr. Shefali Miglani, Chief Medical Officer of Hoot. "During this important week for myopia awareness, our optometry community must work together to help parents as much as we help patients. From reducing screen dependency to encouraging kids to playing outdoors to opening the curtains while kids study — all of these changes in the home environment can have an important positive impact on the child's vision and their myopia."
The goal behind this new software is to help ODs save time when sharing educational resources with patients and parents. Whether that's counseling on reducing screen time or promoting the 20/20/20 rule, these important messages can now be automatically sent to parents with the click of a single button.
Hoot's automated marketing system now frees up the optometrist and their staff to focus on helping the patient while Hoot auto enables better parent education. ODs will be able to share this series of behavioral coaching videos with instructions each month to help them. Some of these videos include:
How to change the study place for kids
How to get kids to go outside and play
How to reduce device addiction
How to get kids from leaning too far into their screen
Optometrists who are experts in myopia management and utilize behavioral coaching in their myopia management programs can be found here: https://www.hootmyopiacare.com/our-doctors/