To view the webinar after November 3, 2022, click here.
November 1, 2022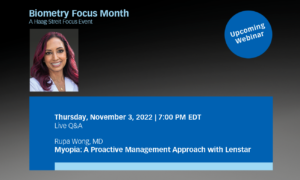 KOENIZ, Switzerland — Haag-Streit announced that November will be Biometry Focus Month, and the company will host a series of webinars for eye care professionals. On Thursday, November 3, Rupa Wong, MD, will host a webinar as part of this series: "Myopia: A Proactive Management Approach with Lenstar."
Dr. Wong will talk about the growing epidemic of myopia, its impact on lifetime eye health, and the importance of intervention and treatment. She will detail her approach to monitoring progression in her patients and utilizing measurements, such as event and trend analysis, with the Lenstar 900. Dr. Wong will also share the successes she has had with treatment compliancy and how she and her staff utilize the Lenstar Myopia Report for patient and parental education.
The following key topics will be covered:
Myopia as a global epidemic
Myopia's long-term implications on eye health
Current methods for intervention and treatment
Monitoring progression with the Lenstar 900
Education and compliance with the Lenstar Myopia Report