December 7, 2020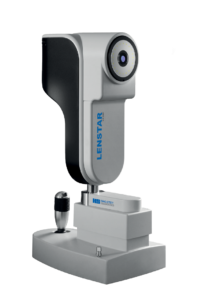 Haag-Streit has launched Lenstar Myopia for the early detection of myopia and state-of-the-art myopia management. Lenstar Myopia, slated for U.S. release in January, consists of Haag-Streit's well established Lenstar 900 optical biometer and the corresponding EyeSuite software, EyeSuite Myopia.
In addition to measuring and monitoring axial length, Lenstar 900 also performs keratometry to make accurate predictions about the onset and progression of myopia. Using EyeSuite software, Lenstar 900 is fully networkable and allows full real-time access to all data in a practice.
EyeSuite Myopia is a compact, highly customizable, easy-to-use yet comprehensive myopia management software platform that uses the latest findings of myopia research on refractive progression trends, axial length growth of the eye, and environmental factors.
The measurement of axial length has proven to be an excellent way to predict the progression of myopia because it works independently of accommodation and is less dependent on the patient's state of mind and willingness to cooperate. EyeSuite Myopia uses the latest axial length growth curves from myopia experts of the Erasmus University Medical Center that can be updated by new growth curves as they become available.
EyeSuite Myopia also offers the possibility of importing previously collected data from refraction measurement devices and to use them in this software, which can track the success of past and present treatments by using the graphical overlay of refractive or biometric data to determine the optimal treatment.
By also determining refraction and its development in childhood, predictions can be made about the progression of myopia until adult age. EyeSuite Myopia overlays this data with the predicted course of myopia using various treatment methods based on their appropriate control rates. All progression trends can be adapted for regional peculiarities and supplemented by new control rates as they become available. The software also facilitates education and consultation of patients and parents about the prevalence, causes, and consequences of myopia in children.
EyeSuite Myopia was developed in close cooperation with leading myopia experts Thomas Aller and Pascal Blaser of MyopiaCare. The software provides patients and their parents with easily understandable information, allowing them to actively participate in the myopia management process.