January 1, 2021
By Christopher Browning, OD
Here's how I grew my myopia practice from less than one child per month to more than one per week – more than a 500% increase!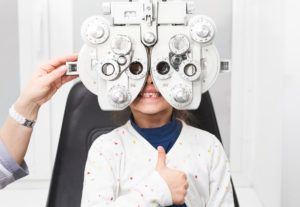 Over the last five or six years, I saw about ten myopia management OrthoK cases per year. No matter what I tried, I couldn't get past that frustrating barrier. By now, anyone reading this is aware of the staggering number of myopic children in the U.S., and I knew I had a lot of them in my community. But for whatever reason, I wasn't reaching them. Yes, OrthoK for myopia management was mentioned on our website and social media channels, and we talked about it in the practice. Still, the "ten cases per year limit" kept coming up.
All that changed last February. Now, instead of fitting less than one child per month in OrthoK lenses, we're providing expert full scope myopia management services to more than one patient per week. Even during a pandemic, that number is increasing.
Thousands of Myopic Children
You might not consider the Midwest a hotspot for myopic children. I thought that was the primary reason I couldn't grow that segment of my practice, but I now know there are thousands of kids in nearly every U.S. market who need our help.
What changed in February of 2020? That's when my staff and I realized that merely offering patients and parents OrthoK lenses was not myopia management. We learned that by partnering with Treehouse Eyes.
Our staff was taught that the way our practice thinks about myopia management and how we convey that message to parents and children – the space in which we provide the service, the words, pictures, forms, phone messages, emails, the website and social media content –  finally primed the pump in our practice. Once we aligned our practice's thinking on myopia management, things started to click and the previous "10 patient limit" quickly disappeared.
Myopia Management Is Now Integral
Ongoing communication with the training manager, marketing team, and other Treehouse Eyes practices ensure two things consistently happen. First, we continue to grow this critical segment of our practice. We see ongoing growth not just the one-time blip you sometimes get after going to a CE meeting. Second, with myopia management changing so rapidly, we are not just staying current on all the changes. We are getting in front of them. For example, we are well positioned to offer myopia management eyeglass lenses, whenever and whichever one gets to us first. This is because myopia management is now an integral part of our practice. We know it and our patients experience it.
The financial rewards have been outstanding. Of course, COVID slowed us down a bit. Still, we are now on solid footing, and through our internal and external marketing efforts, we are quickly becoming the go-to myopia providers in our area. We see referrals from other providers, something we never thought possible. We have even had patients contact us from more than four hours away.
Like adding any specialty to your practice – dry eye, vision therapy, scleral lenses – you must commit some time to get protocols in place. Unlike those other specialties, you must know precisely what, when, and how to commit the time. If you're not already doing those other specialties, you should, of course, investigate if they're right for your practice. Given the myopia pandemic's size, however, I can't imagine any of those other disciplines could have the same payoff.
It comes down to a straightforward equation. There are millions of myopic kids who need our help, now, plus you have a professional responsibility to provide care to all myopic children. The financial rewards will follow.
Christopher J. Browning, OD, practices at VisionQuest Eyecare, caring for a large pediatric population at the Indianapolis and Greenwood, Indiana Offices. He participates in the American Optometric Association's InfantSEE program, which provides no-cost care to underprivileged infants. He works closely with several area pediatricians to detect vision problems such as myopia at their earliest stages to prevent future problems.