January 31, 2022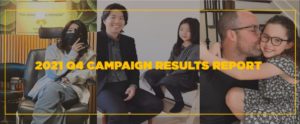 ST. LOUIS — In early December, the Global Myopia Awareness Coalition (GMAC) launched its latest public awareness campaign, including both paid and social media, with the goal of continuing the organization's commitment to drive myopia management awareness among parents. The messaging focused on creating a sense of urgency with parents to take action now and ask an eye care professional (ECP) about treatment options that can help slow the progression of myopia in children.
For the first time, GMAC had ECP influencers in addition to parent influencers posting myopia-related content on their social media channels, across several different platforms. TikTok proved to be particularly effective at garnering attention, as both Dr. Carly Rose's and Dr. Rupa Wong's videos were well received by viewers.
The influencers were successful across the board in getting their followers to engage with and understand their posts on myopia management, and many parents took further action to do their own research. Overall, the campaign led to 245 million impressions on various social media channels. Additionally, the paid editorial content reached over 243 million people, while nearly 30% of the comments on all of the social media posts reflected a deep understanding of the myopia management messaging.
The results showed that ECPs provided myopia content in a credible way that strongly resonated with audiences. Practitioners were able to share more education-based content, which many of the parents viewing their posts appreciated and were interested in learning about.
The work of the parent influencers was also important, as GMAC noticed a significant increase in traffic to its website throughout the month of December. This activity was 164% higher from this most recent campaign, compared with the totals from GMAC's last campaign efforts. They credit the work of Myriam Sandler, Angela Kim, and Laura Izumikawa, specifically, for driving the most engagement. All three of these influencers had a personal connection to myopia, further demonstrating the importance of parents helping to educate other parents.
Looking to the future, it was clear that parent education and awareness about myopia and the treatments that are available needs to continue. Many of the comments on social media from parents indicated their surprise at hearing about myopia, and many of them were thankful to the parent and ECP influencers for sharing this important information. Continuing these efforts will help spread this awareness even further and work to improve children's long-term eye health.