August 10, 2021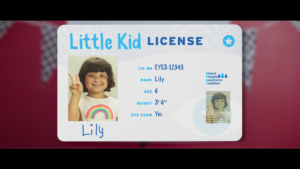 ST. LOUIS — The Global Myopia Awareness Coalition (GMAC) has launched a new myopia-focused social media campaign: "Little Kid License." The primary goal of the campaign is to raise awareness about childhood myopia and new treatment options available — beyond conventional glasses and contact lenses — that can help slow the progression of the disease and set children up for success. 
"Little Kid License" is the fourth direct-to-consumer educational campaign GMAC has brought to the market to bring attention to childhood myopia, the importance for comprehensive eye exams, and the need to look beyond vision correction and provide treatment to slow the progression of myopia. The video presents the fun idea of getting kids' eyes examined before they go on the go-cart track, which brings home to parents that children often do not communicate their vision issues, and they need to be taken to a comprehensive eye exam with their eye doctor.  
"I'm excited about our latest campaign to drive public awareness of childhood myopia and treatment options," said Juan Carlos Aragón, GMAC Board Chair. "Little Kid License builds on our past success of using influencers to drive our message and is a relatable and fun message for parents." 
With kids spending less time outdoors and more time reading and on screens in the pandemic environment, it's more important than ever for GMAC to focus on driving its mission of promoting public awareness of childhood myopia as a treatable disease and encouraging parents to regularly get comprehensive eye exams for their children and ask about myopia treatment options. According to a recent GMAC survey, half of parents reported that their children spent more than four hours using electronic devices each day during the pandemic, compared to 18% of parents reporting the same behavior prior to the pandemic, underscoring the importance of this message.1
Nathan Bonilla-Warford, OD, from Bright Eyes Family Vision Care in Tampa, Fla., was on site for the video shoot, and he was excited to be part of GMAC's efforts to educate parents about myopia management and children's eye health.
"I have known about GMAC for awhile now, so when they asked if I would like to participate in the new video, I jumped at the chance," Dr. Bonilla-Warford said. "Myopia control is closer to becoming mainstream. Parents used to not know anything about it, but now they are starting to come in asking for it and being referred by other doctors. However, there is still a lot of work to be done educating."
The "Little Kid License" campaign launched in the U.S. on August 10 and will run through September to support the back-to-school timeframe when many parents are thinking about their children's health. GMAC is driving parents to the video through partnerships with several parent influencers in the U.S. who will share their own myopia stories to drive the campaign across multiple social channels. The campaign also has a consumer media outreach component, with coverage expected nationally and in multiple local markets. 
Eye care professionals can find the campaign video on AllAboutVision and YouTube. 
References
1 GMAC survey conducted online by YouGov June 17-23, 2021, among 1,530 U.S. adults aged 18+ with children <18. figures have been weighted and are representative of this population.