July 1, 2021
By Shefali Miglani, OD; Monroe Eye Care, Monroe, NJ
One big thing I've learned after practicing myopia management for the last seven years is that it's not about the lenses or the drops. It's about how we orchestrate a meaningful experience for the patient and the parent.
I've run my own private optometric practice for over a decade, but my experience with myopia management began about seven years ago when I noticed children as young as eight struggling to read the chart during eye exams. The parents were shocked and would tell their children, "Come on. What's the matter? It's right there. Just read it." While the parents were concerned, I was also worried because this wasn't just one child — it was an increasing number of children. I also knew glasses weren't the answer because their vision kept getting worse despite the glasses. 
At that point, I looked into myopia management and discovered Vision by Design, the American Academy of Orthokeratology and Myopia Control (AAOMC), and Dr. Nick Despoditis' Super Charge Seminar. Dr. Despoditis' words at that seminar really stuck with me. He impressed upon me the need to add myopia management to my practice because my patients' vision would only worsen. 
From there, I learned to fit patients for orthokeratology lenses (we primarily use GOV lenses and some Paragon CRT lenses), and those became my first myopia management offerings. From there, I've grown to expand to low-dose topical atropine and dual-focus soft contact lenses, such as MiSight 1 Day, NaturalVue, and Proclear "D" Multifocal Toric. However, OrthoK remains the most popular treatment option in our practice because of the added benefit it offers the child to be free of glasses. 
Focusing on the Parents
One big thing I've learned after practicing myopia management for the last seven years is that it's not about the lenses or the drops. It's about how we orchestrate a meaningful experience for the patient and the parent. I used to think it was just about designing and fitting the lenses. Yes, that's challenging every single day, but educating parents and moving them forward to implement a myopia management program is the greatest challenge. Most ECPs I know ask: "How do we convert parents? How do we educate the parents? How do we encourage them to do something about the myopic child whose vision is deteriorating every six months?" This challenge isn't a medical challenge; it's one of learning how to manage difficult and analytical moms and dads in a way that works. 
We learned to overcome this challenge by looking at myopia management as a journey, especially because the first few weeks from the point of diagnosis of the myopic child are supercritical. Either parents are going to act in those first few weeks, or they are not. This first phase we call the "Prospective Parent" phase, and it's where we do a lot of our education. Telling parents that their child is myopic is usually shocking, so we try not to overwhelm them with the negative consequences. While we used to use brochures and handouts to educate parents, we realized that papers typically get lost or parents throw them away. We've since switched to a QR code that parents can scan on their phones while they're in the exam room that takes them to a link to a very specific video about why their child's prescription jumped.  From there, they have access to the whole website, which gives them even more information and answers a lot of the questions that they'll have.
After the initial diagnosis, we email or text them a short video that addresses a concern they may have had or further educates them on myopia. We use videos to basically say what I would say in the exam room, which helps to reduce my chair time, and we're providing education the way that parents want to receive it — on their own time and on their own devices. This system alone has increased our conversion rate significantly. Parents shake their heads in agreement when you are fully transparent about everything, including their responsibility of helping to shift the child's behaviors. We provide them with behavioral coaching modules, which have also helped tremendously. 
We started making videos a few years ago, and it was evident that this was the best way to reach parents. Each topic is based on a question I've gotten or experience I've had in the exam room, and we take our time to write a good script based on research and then record them. Most of the time, these videos are about things that I've repeated in the exam room countless times. By having the videos, we can educate parents in a way that suits them while also cutting down on chair time. Instead of spending two hours doing lens insertion and removal (I&R) training in the office, we cut that in half in the office and then provide 12 clear and specific instructional videos that patients and their parents can watch at home. This helps us get more patients in the office and ultimately grow our myopia management practice. 
Streamlining the Education Process
When I first started myopia management, I struggled in the exam room with patients and their parents because it was hard to know how much information to share in that first appointment. I never knew which forms I should give them, what I should do, what I should show them, and what I should say and not say. 
Over the years, I've learned that this process has to be choreographed in a very thoughtful, sensitive manner so parents don't immediately jump to worrying about what's wrong with their child. To streamline this process, and the entire myopia management journey, my husband, Bob Miglani, created Hoot Myopia Care. The platform has two primary functions: content and workflow software on the back end. It contains all the forms, videos, and training materials, plus a system that helps me educate and instruct patients and their parents. The software allows me to keep track of tasks that need to be done and where each patient is in their specific myopia management journey. On the front end, parents can access all 50 of our educational videos, testimonials from other myopia management patients, behavioral coaching, and I&R training. It puts them at ease because they don't have to take extensive notes during the exams, these resources are always available for them, and they don't feel as if they're the only ones going through myopia with their child.
We're never going to get every parent to understand, but the Hoot Myopia Care platform makes it more streamlined and lays out all the information in a professional manner. I've figured out an effective process for communicating with and educating parents that has saved us chair time. This process is a guided format to follow that has ultimately helped me grow and scale my myopia management practice faster. 
Strengthening the Myopia Management Community
I firmly believe that more optometrists need to offer myopia management because the need is enormous. But I also understand that incorporating myopia management into a primary care practice is complicated. It's hard to make parents aware of it, convert them, design and fit lenses, educate parents, and make sure nothing falls through the cracks with our staff. It's a complex and lengthy process. 
However, offering patients myopia management services helps everyone in the eye care community because it raises awareness with parents and our community, thereby legitimizing all of us together. By providing an excellent myopia management program, children will be better off — and so will optometry.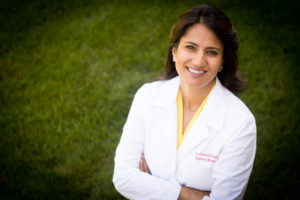 Dr. Shefali Miglani
is the proud owner of Monroe Eye Care, where she specializes in myopia management for kids. As the Chief Medical Officer of Hoot Myopia Care, she helps to design and develop scientific protocols and parent-friendly content on myopia management for doctors on the Hoot platform. Dr. Miglani is a graduate of SUNY College of Optometry and received her undergraduate degree from Rutgers University, where she majored in Chemistry and Psychology. Together with her husband, she lives in a small town in New Jersey where they raise their three children.