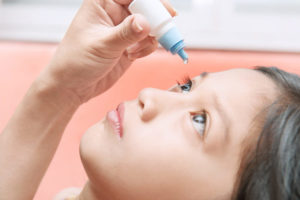 November 9, 2020
Nevakar Inc., a biopharmaceutical company developing multiple products in the ophthalmic and injectable areas, announced today that the first patient has completed three year enrollment in its Phase III CHAMP (Childhood Atropine for Myopia Progression) study, evaluating the ability of its lead compound, NVK-002, to slow the progression of myopia in children. NVK-002 is a proprietary, investigational, preservative-free eye drop administered nightly and intended for patients ages three to 17.
The CHAMP trial, which is being conducted in the U.S. and Europe, follows groundbreaking studies conducted in Asia that concluded that low doses of atropine could be used to slow the progression of myopia in children. CHAMP is a 576-subject, randomized, placebo-controlled, double-masked study evaluating the effects of NVK-002 on myopia progression in children. The study duration is three years, after which enrolled patients are re-randomized for a fourth year of follow-up. With this milestone, the trial remains on-track for a three-year data readout in 2022.
"Despite the many challenges posed by the COVID-19 pandemic, Nevakar has achieved this important milestone in the development of our lead compound, NVK-002, which, if approved, would represent an innovative, first-to-market pharmacologic treatment for myopia in children," stated Navneet Puri, PhD, founder, chairman and CEO of Nevakar.
"Because of the pandemic, more children are staying indoors and increasing their time spent on computers, which raises the risk for developing pediatric myopia. This serious and irreversible condition is considered by the World Health Organization to be a growing global epidemic that will affect roughly half the world's population, or approximately 2.5 billion people, by 2050. If left untreated, pediatric myopia increases the risk of vision loss and eye complications later in life, due to cataracts, glaucoma and retinal disease. Especially during these difficult times, we must continue to develop urgently needed therapies that slow the progression of this insidious disease. We want to thank the children, parents and investigators in the CHAMP study who are our partners in helping us improve the vision of children worldwide," added Eric Lang, M.D., chief medical officer of Nevakar.