May 26, 2021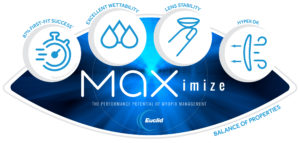 On May 19 and 20, Euclid hosted an orthokeratology roundtable: "Shifting the Paradigm: Maximize Performance of the Next Generation of Ortho-K Lenses."  The goal of the session was to bring together leaders in the myopia management field to discuss the most recent innovations in OrthoK and myopia management. Now, the sessions are available online, giving ECPs the opportunity to learn about the latest in OrthoK.
Speakers for the roundtables included: Barry Eiden, OD, FAAO; Thomas Finley, OD, FAAO; Trevor J. Fosso, OD, FAAO; Kate A. McClure, OD, MS, FAAO; David Kading, OD, FAAO, FCLSA; Kevin Chan, OD, MS, FAAO; Susan Resnick, OD, FAAO; and Thanh Mai, OD, FSLS.
The conversations focused on several important topics, including the health and safety of young OrthoK wearers, strategies for being more aggressive in myopia management treatment, and tips for ECPs to master a first-fit success rate.
"Orthokeratology holds such a weight in [our myopia management practice], because of its simplicity for children and their parents. It's something they just do at night, and their parents don't have to worry about them during the day," said Dr. Kading. "More than anything, orthokeratology has stayed — we're adding soft lenses, and we're adding atropine on top of our orthokeratology usage in our practice."
"As I do more and more OrthoK, I realize how underestimated the market is for children. We actually can do a little bit more for serving our young population, because they represent our next generation," said Dr. Chan. "Their eyesight is going to be in our hands. In our market, this is still underrepresented. I'm hoping, and also optimistic, that the market is going to be pretty bright for optometrists, and I think we're going to be booming in the next five to 10 years."
Euclid also gave attendees insights about its latest OrthoK design: Euclid MAX. Jane Beeman, Euclid's Global Director of Clinical and Scientific Affairs, moderated the roundtable, and she shared the latest information on the Euclid MAX lenses. There were four primary takeaways about the new lenses:
Nearly 90% first-fit success rate; this leads to greater patient satisfaction and less time in the chair
Excellent wettability
Hyper Dk; Euclid MAX has 180 Dk, which is the highest of any overnight OrthoK brand
Optimized lens stability to resist warpage, scratches, and chips
All of the panelists have had experience with the Euclid MAX lenses over the last year, and they each described the positive reactions their patients have had to the new design. Dr. Resnick explained that many of her patients had been using Euclid's earlier design, and when the MAX became available, she switched them over. Though she never had any issues in the past, her patients reported feeling better in the morning with the Euclid MAX lenses.
"I didn't say too much [about the new lenses], because I didn't want to plant any seeds," Dr. Resnick said. "When they came back, almost invariably, the patients were saying when they were waking up in the morning, they just felt better. They weren't dying to get [the lenses] out the way they would normally be. Some said they almost forgot to take them out before leaving for school, so they were more comfortable in the morning, which suggested to me that something good was happening with the new material."
The videos from Euclid's OrthoK roundtable are available online. Click here for the Wednesday, May 19, session and click here for the Thursday, May 20, session.