April 21, 2022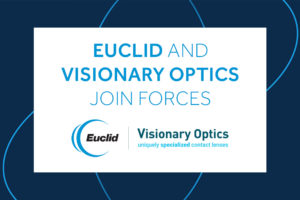 STERLING, Va. — Euclid Vision, formerly Euclid Systems Corporation, has acquired Visionary Optics, a specialty scleral contact lens distributor and designer. The value of joining forces is to increase each company's ability to provide comprehensive specialty contact lens care to more patients globally. Euclid is already established in the field of orthokeratology and myopia management.
"We are excited about joining forces with Visionary Optics. This union opens exciting opportunities for cross-company collaboration and innovation," said Joseph Boorady, Euclid President and CEO. "Visionary Optics, with its best-in-class scleral lens innovations and world class customer service, is a great match for the Euclid portfolio. Having market-leading technologies in two of the fastest growing specialty contact lens markets — OrthoK and scleral lenses — positions us to better serve our customers and their patients."  
Euclid and Visionary Optics share many of the same cultural values, such as a dedication to professional education, strong partnerships with eye care professionals, and market savvy product innovation, and each company will retain their unique individual brand. 
"This is an incredible opportunity for Visionary Optics to work with a partner who can help take our business and technology to the next level, while also maintaining the key foundational aspects of what has fueled our success, including our customer-driven corporate culture and high-tech research orientation," said Donald Sanders, MD, PhD, Visionary Optics President and CEO.