August 12, 2021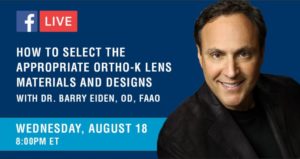 Click here to watch the recording after Aug. 18, 2021.
STERLING, Va. — Euclid Systems Corporation will host a live discussion on orthokeratology featuring Barry Eiden, OD, FAAO, on Wednesday, August 18, at 8:00pm Eastern. The session entitled "How to Select the Appropriate Ortho-K Lens Materials and Designs" will be held on Facebook Live.
Dr. Eiden will share his personal practice protocols and decision tree when determining what products, designs, and materials are important when managing patients. The discussion will give practitioners the opportunity to learn about Dr. Eiden's philosophy behind his OrthoK selection process based specifically on the needs of the child, youth, or adult patient.
Attendees will also learn how to improve their overall success rate with fitting OrthoK lenses by understanding the importance of the balance of properties of materials coupled with proven lens designs for overnight OrthoK. The conversation will also focus on all of the material properties and design characteristics that are critical in the OrthoK fitting process — beyond just oxygen permeability.
ECPs interested in the event can sign up now.