January 19, 2022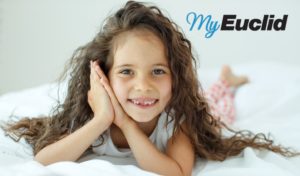 STERLING, Va. — Euclid Systems Corporation announced that its new cloud-based customer portal, MyEuclid, is now being released in its initial stages. The new portal is interactive, with the goal of helping ECPs drive practice efficiency and optimize Euclid's orthokeratology designs.
"MyEuclid offers eye care providers an interactive and intuitive real-time solution for ordering and tracking Euclid orders," said President and CEO, Joseph Boorady. "This cloud-based platform is a prime example of Euclid's commitment to providing innovative solutions and unparalleled support to each of our customers."
Among MyEuclid's key features are fit flexibility, expert order verification, and data-driven algorithms based on 25 years of global OrthoK design experience for precise curve selection and optic zone optimization. MyEuclid utilizes this extensive dataset to facilitate system-generated recommendations to obtain the proper fit. Easy topography uploads and real-time order tracking round out this new system's attributes. The interactive platform's interface works with Euclid's three-factor fitting and has an "advance mode" for additional practitioner modifications.
"The MyEuclid portal will be a game changer for my practice," said Thomas Finley, OD, FAAO, of Herndon, Va. "I'm driven by a desire to provide my patients with the best eye care in a way that enhances my practice's success. The MyEuclid platform will further those goals by enabling me to more efficiently match patients with the optimal OrthoK lenses to manage their myopia even more effectively, as well as keep accurate track of the status of all lens orders."
A full launch of MyEuclid to U.S. customers is planned for March 2022. For more information, email sales@euclidsys.com.