Sponsored content
Feb. 4, 2020
By Thanh Mai, OD, FSLS and Valerie Lam, OD, FAAO, FCOVD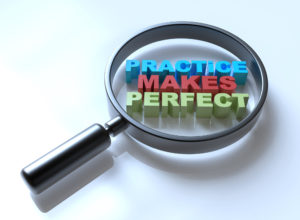 Primary care, check. Vision therapy, check. Specialty contact lenses, check. Myopia management. . . check?
We opened Insight Vision Center Optometry in Costa Mesa, California, in 2015 with the dream of having a practice dedicated to specialty services. Our business minds knew that any good office must have a robust infrastructure in place to run smoothly and efficiently. When we first opened, we initially put our efforts into the systems that run our primary care practice. Like any new office, getting these policies and procedures in place wasn't easy and is still a work in progress. However, once we were confident the primary care side of our practice could stand on its own, we could invest our time and energy into building up our specialty services.
We first focused our efforts on vision therapy and orthokeratology. Using the same thought process we used to get our primary care practice up and running, and we worked on staff training and the framework of the programs. Our staff needed to understand why vision therapy is the best treatment option for binocular vision problems and why orthokeratology is a preferable treatment for a myopic child than glasses. Next, we had to ensure we had effective and reproducible systems within our office. At this point in our practice, we were specifically focused on orthokeratology, but not myopia management – which we now understand is not the same thing.
The orthokeratology segment of our practice was doing well, and we were pleased to be doing a few cases each month and to watch that number grow each year steadily. Yet as data continues to be published about the size and scope of the myopia epidemic, we knew that in our area (Orange County, California), we hadn't even yet scratched the surface of the vast number of myopic kids that need our help. We knew we needed to do more to get the word out in a bigger way.
In August 2016, Treehouse Eyes opened its first two centers dedicated exclusively to treating childhood myopia. Having worked with one of its co-founders, Gary Gerber, OD, in his role at the Power Practice, we were expecting Treehouse Eyes to have a unique and productive approach to growing a myopia management practice. We stayed in close contact with Dr. Gerber and watched Treehouse Eyes' rapid growth in this category. When they announced their national expansion, we were eager to learn more.
As we dug deeper, it was evident that their approach was markedly different than what we had been doing, and their treatment strategy was cutting edge as compared to any online CE or lecture that we've attended. Their internal framework of how to structure a myopia management program was also brilliant and more streamlined than what we were currently using in our vision therapy and orthokeratology programs. It was clear that if we wanted to really up our myopia management game, Treehouse Eyes was the best way to do it. We joined their growing family last summer.
The initial training was incredibly comprehensive and plunged our entire team headfirst into the world of myopia management. It included consumer behavior studies to support effective marketing, brand training, and case presentation coaching. Treehouse Eyes staff provided us with all the necessary documents, including brochures, forms, images, intake forms and contracts. They taught us the most effective clinical protocol they use and connected us with special vendor pricing. At the close of that first training session, we understood that orthokeratology isn't equivalent to myopia management and why Treehouse Eyes has quickly made such a mark in the industry. When it comes to myopia management, they get it! We now view them as the "evidence-based myopia management company."
We decided to expand myopia management using orthokeratology as one of many tools. This has allowed us to treat more kids that either aren't good candidates for orthokeratology or are too young. Since working with Treehouse Eyes, we now start more kids on myopia management with a broader age range than before.
Treehouse Eyes has helped our practice by conducting more staff training. Staff was given an overview of the Treehouse Eyes methodology, along with the use of proper documentation, marketing plans, and treatment regimens.
Next, Treehouse Eyes' marketing team is helping us with our website, SEO and social media presence. They are helping us to get the word out in a more significant way to the general public through their public relations campaigns that will kick off in a few months.
Due to our rapid growth over the past five years, we decided to expand our office and are currently in the process of converting one of our exam rooms to the branded Treehouse Eyes Center. Going through construction is always a big project, but the Treehouse Eyes design team has worked very hard to lay out exactly what we need to do.
Our incremental growth covers the fees paid to Treehouse Eyes, and we are getting more and more patients coming through our doors asking for myopia management. We are looking forward to exponential growth in the next few years as we ramp up this program in our office, and as Treehouse Eyes continues its national expansion. If your myopia management practice isn't where you want it to be, we recommend you investigate Treehouse Eyes as a unique way to grow your practice and improve the quality of care for your childhood myopia patients.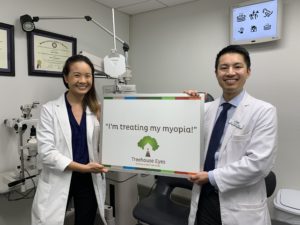 Thanh Mai, OD, FSLS, and Valerie Lam, OD, FAAO, FCOVD, are partners at Insight Vision Center Optometry in Costa Mesa, California.