April 7, 2022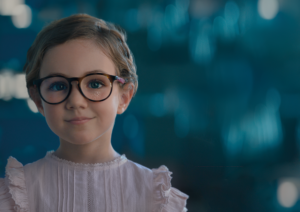 CHARENTON-LE-PONT, France — Essilor announced that its two-year clinical trial data on its Stellest lenses were published in JAMA Ophthalmology. The report highlights that the Stellest lenses continue to demonstrate strong myopia control efficacy after two years.
The children in the clinical trial were randomly assigned to receive spectacle lenses with highly aspherical lenslets (HAL), spectacle lenses with slightly aspherical lenslets (SAL), or single-vision  spectacle lenses (SVL). Essilor Stellest lenses are based on the optical design of HAL lenses. The article provides a detailed description of the two-year results of this study, including the following key outcomes:  
Higher lenslet asphericity led to higher myopia control efficacy, so HAL lenses were more effective at slowing down myopia progression than SAL lenses.  

HAL lenses showed high myopia control efficacy and slowed down myopia progression by 0.80D (55%) and axial elongation by 0.35mm (51%), on average, compared to single-vision spectacle lenses (SVL). 

Two-year results demonstrated that wearing time matters in myopia control and highlighted its significant impact on myopia control efficacy outcomes. Hence myopia control efficacy increased in children who wore HAL lenses full time (≥12 hours/day) every day, to 0.99D (67%) slowdown in myopia progression and 0.41mm (60%) axial length efficacy on average, when  compared to SVL

.1 
"These impressive findings clearly suggest that the use of HAL lenses instead of conventional single vision lenses for myopia correction would be a strategic approach to slow down myopia progression in children," said Dr. Jinhua Bao, Principal Investigator of the clinical trial and Director, Laboratory of Myopia & Visual Function at the Eye Hospital, Wenzhou Medical University. "The study also confirms that the more you wear the myopia control solution, the better it works." 
"We are extremely encouraged to have conclusive data to show that Essilor Stellest lenses demonstrate a strong myopia control effect for both refraction and axial elongation. Given the increased risks of ocular pathologies linked to high myopia, the Essilor Stellest lens can help in effectively slowing down myopia  progression during early childhood, reducing the risk of such pathologies later in life. We are glad that we could develop a safe, innovative and effective myopia control solution, which is already having a positive impact on children's eye health globally," said Norbert Gorny, Co-Chief Operating Officer, EssilorLuxottica.
The Essilor Stellest lens provides myopia correction and sharp far vision through a single vision zone and myopia control thanks to the H.A.L.T.2 technology and its constellation of 1,021 invisible lenslets that create a volume of non-focused light in front of the retina. The shape of the contiguous aspherical lenslets, spread on 11 rings, is computed to create, for the first time, a volume of signal that slows down the elongation of the eye.  
Since 2020, the Essilor Stellest lens has been launched in Greater China, Russia, Singapore, France,  Italy, the U.K., Ireland, Germany, the Netherlands, Spain, Brazil, Canada, and Nordic countries. The lens already shows very good acceptance by patients and is helping to slow down myopia progression for many children around the world. Essilor Stellest lenses are not yet available in the United States.
References
1 Compared to single vision lenses, when worn 12 hours a day. Two-year prospective, controlled, randomized, double-masked clinical trial results on 54 myopic children wearing Stellest lenses compared to 50 myopic children wearing single vision lenses. Efficacy results based on 32 children who declared wearing Stellest lenses at least 12 hours per day every day. Bao J. et al. (2021). Myopia  control with spectacle lenses with aspherical lenslets: a 2-year randomized clinical trial. Invest. Ophthalmol. Vis. Sci.; 62(8):2888.
2 Highly Aspherical Lenslet Target