April 9, 2021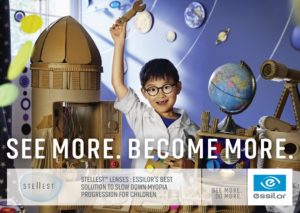 CHARENTON-LE-PONT, France – After two years of a planned three-year clinical trial that tested the efficacy of Essilor's Stellest lenses, the company is now ready to present the findings at the Annual Meeting of the Association for Research in Vision and Ophthalmology (ARVO 2021). The clinical trial results show that the Stellest lenses were 67 percent effective, on average, at slowing the progression of myopia compared to single vision lenses.
The presentation of this research entitled "Myopia control with spectacle lenses with aspherical lenslets: a 2-year randomized clinical trial", will be delivered at the occasion of the Annual Meeting of the ARVO, on May 6th, 2021, by BAO Jinhua2 , Associate Professor at Wenzhou Medical University, China.
The Essilor Stellest lenses provide myopia correction through a single vision lens, which allows for sharp far vision and myopia control through H.A.L.T. technology-Highly Aspherical Lenslet Target -which consists of a constellation of aspherical lenslets spread on 11 rings. The two-year clinical trial showed that when children wore the Stellest lenses for at least 12 hours per day, they saved nearly one diopter of myopia progression.
Other key findings from the trial include the following:
After the first year, the eye growth of 9 out of 10 children wearing Essilor Stellest lenses
was similar or slower than non-myopic children.1
2 out of 3 children who wore Essilor Stellest lenses did not need a prescription change
after the first year.1
100 percent of children wearing Essilor Stellest lenses had clear vision; 100 percent of children adapted to their new lenses within a week; 91 percent of children fully adapted within three days; and 94 percent of children felt comfortable with Essilor Stellest lenses, demonstrating that Essilor Stellest lenses were comfortable, and easy to adapt for children.1 
"With such impressive results, Essilor's Stellest lenses will truly be a catalyst to stem myopia progression and to help children, who continue to be at risk of sight-threatening eye conditions associated with myopia," said Norbert Gorny, co-chief operating officer, Essilor International. "Essilor is proud to be at the forefront of myopia management, and we will continue to be focused on bringing such innovative advances to move the needle on the fight against myopia."
"These exciting results have already amazed leading global myopia experts and illustrate that Essilor's mission and commitment to tackle myopia remains stronger than ever today," said Grita Loebsack, group chief marketing officer, Essilor International. "After its successful release in China in June 2020, then in Russia and Singapore, with extremely positive feedback from parents, children and eye care practitioners, we look forward to offering this new solution to help children in other countries."
References
1 Compared to single vision lenses, when worn at least 12 hours a day. Two-year prospective, controlled, randomized, double-masked clinical trial results – 104 myopic children split in two groups: Single vision lenses (50) and Essilor Stellest lenses (54) – Efficacy results are based on 32 children who declared wearing Essilor Stellest lenses at least 12 hours per day every day – Eye Hospital of the Wenzhou Medical University – J. Bao, A. Yang, Y. Huang, X. Li, Y Pan, C. Ding, E. W. Lim, J Zheng, D. P. Spiegel, Y. L. Wong, B. Drobe, F. Lu, H. Chen
2 Associate Professor and Co-PI, Lab of Myopia and Visual Performance, Eye Hospital of Wenzhou Medical University and Associate Director of Wenzhou Medical University – Essilor International Research Center (WEIRC)