June 1, 2022
By Glenda Aleman Moheeputh, OD
I've found that each different myopia management treatment modality – orthokeratology, low-dose atropine, and soft multifocal contact lenses – should be handled differently. These patients need reminders and advice unique to their specific treatment plans.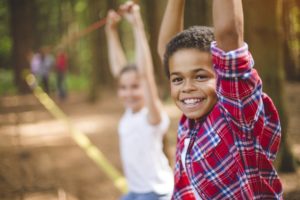 To make sure that patients get the most benefits from their myopia management treatments, it is of the utmost importance for eye care practitioners to motivate their patients to be compliant – especially while they are away for the summer. Implement the following clinical pearls into your myopia practice to help young patients stay on top of their myopia treatments this summer – and beyond.
Start Preparation Early
The first thing I like to do is schedule an appointment one to two weeks before the patient is expected to leave for the summer. This allows me enough time to review the most critical steps of their treatment with them. I've found that each different myopia management treatment modality – orthokeratology, low-dose atropine, and soft multifocal contact lenses – should be handled differently. These patients need reminders and advice unique to their specific treatment plans.
OrthoK
For OrthoK wearers, I like to remind my patients of the importance of taking proper care of their lenses and the correct steps to do so successfully. During this visit, I go over insertion and removal with the patient, inspect their lenses to ensure that they are in good condition, and check to see that the patient is using the proper solution. I also like to provide my patients with extra travel-size contact lens cleaning solutions and preservative-free artificial tears. During this visit, I emphasize the importance of carrying a backup pair of glasses. Keeping an extra pair of glasses on hand acts as a preventative measure if they experience any irritability or cannot wear their nightly OrthoK lenses due to not receiving enough hours of sleep while they are away.
Low-Dose Atropine
For my patients using low-dose atropine, I explain how to instill the drops into their eyes and the application schedule. I also encourage my patients to take an extra bottle if they lose one or misplace their own. In addition, I inspect their glasses to make sure they have a functioning pair of glasses and an up-to-date prescription. I recommend this to all my patients receiving myopia management treatment. If they are getting new glasses, I let them know of the benefits of photochromic lenses, which help mitigate possible light sensitivity caused by the low-dose atropine treatment.
Soft Multifocal Contact Lenses
For patients wearing daily disposable contact lenses, such as MiSight 1 day, I re-educate them on the proper wearing schedule, which is a minimum of ten hours a day for at least six days a week.1 I also remind patients to take a backup pair of glasses to wear when they are not wearing their contact lenses. I make sure they have plenty of extra pairs of contact lenses so they do not risk running out. This also helps if they have any incidents, such as losing or ripping a lens, as they won't be discouraged from continuing their treatment. 
Most importantly, I remind patients of the risks associated with wearing their contact lenses when swimming or taking a shower. While away, they risk exposure to many contact lens-related issues. Such risks range from irritation, which is the least serious, to the most severe complication – infectious bacterial keratitis.
Asking Parents for Help
I also advise the parents of my patients to check in with their children once a week. When parents check in with their kids, the patient receives an additional reminder as to why it is crucial to keep up with their treatment. This communication also serves as a way for the child to discuss any issues they may have with their treatment. Emphasizing to parents how important it is for them to be involved in their child's myopia management treatment acts as an additional form of encouraging compliance. After all, this is a team effort involving the doctor, patient, and parent.
These clinical pearls have worked well with my patients and parents in my myopia management practice. Furthermore, you can implement these tactics when patients travel overseas or move away to college. Even though some tips are seemingly obvious, you cannot assume that your patients will follow through with their instructions. That is why the responsibility falls to the doctor to make sure that our patients and parents are appropriately educated. Always revisit instructions to promote compliance with their myopia control treatment to ensure the effectiveness of their treatment modality. I have found within my practice that my patients and parents appreciate me taking the time to express my concern and motivate the child. Taking these extra steps shows that we genuinely have the best interest of our patients in mind. 
Finally, don't forget to encourage your patients to have fun while away for the summer while also being mindful of safe eye health practices.
| | |
| --- | --- |
| | Glenda Aleman-Moheeputh, OD, graduated from Nova Southeastern University with a Bachelor of Science degree in Vision Science, and she received her Doctor of Optometry degree from NSU's College of Optometry. She served as the President of the American Academy of Myopia Control and Orthokeratology (AAOMC) South Florida Chapter from 2019-2020. She is also the lead ambassador for the Optometry Divas Miami Chapter and acts on the Chair Advisory committee of the Broward College Opticianry program. |
References
MiSight 1 Day (Omafilcon a) – Coopervision. https://coopervision.com/sites/coopervision.com/files/pfg01040_misight_fitting_guide_us_ rev_a.pdf.