sponsored content
October 3, 2022
By Hayden Matz, OD, and Jeffrey Sonsino, OD, FAAO
Axial length biometry is one of the most important methods of monitoring myopia. By investing in technology that measures axial length, clinicians can confidently establish a science-driven protocol in their offices.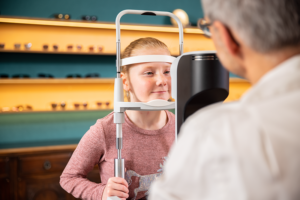 Preventing and controlling myopia has become an essential duty of optometrists that can no longer be ignored. Advancements in tools practitioners use to diagnose, manage, and monitor myopia has made this field much more sophisticated. Based on current research, the consensus is that axial length biometry is one of the most important methods of monitoring myopia.1 By investing in technology that measures axial length, clinicians can confidently establish a science-driven protocol in their offices.
The Importance of Axial Length
Axial length is a quantitative method of monitoring progression compared to subjective refraction alone. For this reason, it has become the primary variable tracked in most randomized controlled clinical studies of Myopia Prevention and Control (MPC).2-5
When counseling parents about MPC, adverse events such as myopic maculopathy and retinal detachment must be part of the discussion. Tideman et al. found a rate of uncorrectable visual impairment of 6.1% in those with axial lengths of 26mm or more, with an exponential increase of risk with age.6 By closely tracking increases in axial length, a patient or guardian can be well informed about the risk of these potential complications.
Improving Patient Care
Axial length biometry has become demystified and more accessible to optometry over the past decade. The Lenstar Myopia biometer comes packed with features to make axial measurement easy, accurate, and comprehensive. Lenstar measures axial length and keratometry to a 0.01mm resolution, allowing for precision in tracking change over time.7 There is minimal training time required thanks to the Automated Positioning System, which tracks patient eye movement and automatically adjusts in real-time. 
One of the most significant barriers to optometrists implementing MPC into their practices seems to be creating a reasonable business model for patients and justifying the increased fees relative to a general eye exam. The worry among many optometrists is that vision insurers will see MPC as part of their covered exam, and the reimbursement for a vision exam will not pay for the time, expertise, and added expense necessary to properly perform this service. But, when optometrists are using equipment and measuring data that is not part of the general eye exam, this justification becomes easy. Currently, axial length measurement is not considered part of a routine eye exam covered by vision insurance.
Myopia is a growing challenge for patients, and the demand for proper management continues to grow. By understanding the latest research and utilizing state-of-the-art technology, optometrists can be confident that they are practicing at the forefront of science. Literature continues to support the need to accurately track axial length to meet myopia management as the standard of care. Bringing a comprehensive, easy-to-use biometer into the practice strengthens the doctor's ability to diagnose, treat, manage confidently, and bill for MPC.
This article is sponsored by Haag-Streit USA.
| | |
| --- | --- |
| | Hayden Matz, OD, is a 2020 graduate of Nova Southeastern University. He currently works alongside Dr. Sonsino in The Contact Lens Center at Optique in Nashville, Tennessee, while also leading the practice's Dry Eye Center. He has specialty lens experience in fitting scleral lenses, corneal GPs, and hybrid lenses, as well as experience with EyePrint prosthetic lens and fitting. |
| | Jeffrey Sonsino, OD, FAAO, is a partner in a high-end specialty contact lens and anterior segment practice in Nashville, Tennessee. For over 11 years, he was faculty at Vanderbilt University Medical Center's Eye Institute. He is a Diplomate in the Cornea and Contact Lens Section of the American Academy of Optometry (AAO), past-chairman of the Contact Lens and Cornea Section of the American Optometric Association (AOA), founding emeritus board member of the Healthcare Alliance for Patient Safety, a fellow of the Scleral Lens Education Society, past-president of the Middle Tennessee Optometric Association, the 2017 Gas Permeable Lens Institute (GPLI) practitioner of the year, the 2017 AOA's Advocate of the Year, and the 2018 Tennessee Optometric Association's Optometrist of the Year. |
References
1 Cheung SW & Cho, P. Validity of Axial Length Measurements for Monitoring Myopic Progression in Orthokeratology. Investigative Ophthalmology & Visual Science March 2013, Vol.54, 1613-1615.
2 Chamberlain, P. et al. (n.d.). Axial length targets for Myopia Control – Wiley Online Library. Retrieved March 3, 2022, from https://onlinelibrary.wiley.com/doi/10.1111/opo.12812
3 Chia A, Lu QS, Tan D. Five-Year Clinical Trial on Atropine for the Treatment of Myopia 2: Myopia Control with Atropine 0.01% Eyedrops. Ophthalmology. 2016 Feb;123(2):391-399. 
4 Collery RF, Veth KN, Dubis AM, Carroll J, Link BA. Rapid, accurate, and non-invasive measurement of zebrafish axial length and other eye dimensions using SD-OCT allows longitudinal analysis of myopia and emmetropization. PLoS One. 2014 Oct 21;9(10): e110699.
5 Zhu MJ, Feng HY, He XG, Zou HD, Zhu JF. The control effect of orthokeratology on axial length elongation in Chinese children with myopia. BMC Ophthalmol. 2014 Nov 24; 14:141.
6 Tideman, J. W. L., Snabel, M. C., Tedja, M. S., Van Rijn, G. A., Wong, K. T., Kuijpers, R. W., … & Boon, C. J. (2016). Association of axial length with risk of uncorrectable visual impairment for Europeans with myopia. JAMA ophthalmology, 134(12), 1355-1363.
7 Haag-Streit. (2020). Lenstar Myopia: Your Companion for Myopia Management. Koeniz, Switzerland; Haag-Streit.