January 18, 2023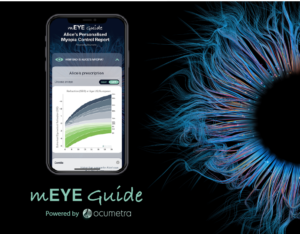 SAN RAMON, Calif. — CooperVision is teaming up with Ocumetra to sponsor the company's myopia management tools — mEYE Guide and mEYE Gauge. The mEYE Guide is a parent conversation tool for ECPs. The mEYE Gauge is an axial length estimator. This partnership will broaden access to these resources with additional languages, extending their capabilities to non-English speaking markets worldwide.
Despite rising global prevalence and severity of myopia, ECPs around the world recognize that parents often don't understand the need for myopia management and find that it can take a lot of time to thoroughly explain the concept and treatment options.1 
"CooperVision is dedicated to broadening access to tools and resources that empower eye care professionals to combat childhood myopia and help ensure the disease ​is treated with urgency," said Elizabeth Lumb, BSc (Hons) MCOptom, FBCLA, Director of Global Professional Affairs, Myopia Management, CooperVision. "Our partnership with Ocumetra complements our investment in evidence-based myopia control interventions, including MiSight 1 day — the first and only soft contact lens approved* by the U.S. FDA and China NMPA to slow the progression of myopia in age-appropriate children.2†"
Through intuitive, visual information such as refraction centile charts and a vision simulator packaged into personalized reports, mEYE Guide is designed to simplify the conversation between ECPs and parents of children with myopia. With a deeper understanding of myopia, families may be more likely to choose treatment and commit long-term.
An additional Ocumetra tool, mEYE Gauge, is also available to ECPs. While ocular biometry remains the gold standard for tracking myopia progression, the axial length estimator mEYE Gauge empowers ECPs to begin integrating axial length into their myopia management routine without the upfront expense of an optical biometer.
"We are excited about CooperVision's sponsorship, which will help bring mEYE Guide and mEYE Gauge to a broader global audience," said Prof. Ian Flitcroft, DPhil, FRCOphth, Ocumetra Co-Founder and Chief Innovation Officer. "At Ocumetra we create tools that help to accelerate the adoption of evidence-based treatments to benefit children with myopia everywhere."  
Through CooperVision's sponsorship, mEYE Guide and mEYE Gauge will expand to support additional languages including: Traditional Chinese, Simplified Chinese, Czech, French, German, Hebrew, Hungarian, Italian, Korean, Polish, Portuguese, Russian, and Spanish. Ocumetra has plans underway for other languages as well. With these additional languages, the tools will be able to serve regions with the highest prevalence of myopia around the world. 
Ocumetra's mEYE Guide and mEYE Gauge are available on a subscription basis. A free trial is available at cvi.ocumetra.com. 
References
*U.S. Indications for Use: MiSight 1 day (omafilcon A) soft (hydrophilic) contact lenses for daily wear are indicated for the correction of myopic ametropia and for slowing the progression of myopia in children with non-diseased eyes, who at the initiation of treatment are 8-12 years of age and have a refraction of -0.75 to -4.00 diopters (spherical equivalent) with ≤ 0.75 diopters of astigmatism. The lens is to be discarded after each removal.
†Compared to a single vision 1-day lens over a three-year period.
1 Sulley, et al. Global survey on eye care practitioner perceptions and attitudes regarding myopia and its management. Contact Lens and Anterior Eye. 2021 Feb;44(1):13
2 Chamberlain P, Peixoto-de-Matos SC, Logan NS, Ngo C, Jones D, Young G. A 3-year Randomized Clinical Trial of MiSight Lenses for Myopia Control. Optom Vis Sci. 2019 Aug;96(8):556-567.