April 25, 2022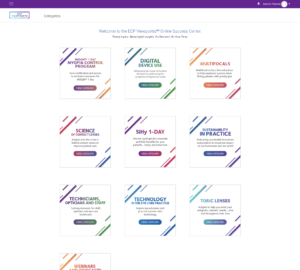 SAN RAMON, Calif. — CooperVision has released its new ECP Viewpoints Online Success Center, a digital education platform that can be utilized by everyone in a practice, from optometrists to technicians and staff, as well as optometry students and health care professionals. The goal is to have one place for all online educational resources to make contact lens information and training resources widely available and easily accessible to ECPs.
The Online Success Center users will have the option to become MiSight certified, preparing them to fit the first soft contact lens FDA approved* to slow the progression of myopia in children aged 8-12 at the initiation of treatment.†1
Based on requests and feedback from ECPs, the Online Success Center features nine key focus areas:
Myopia Control: Training on MiSight 1 day for myopia control in age-appropriate children to support myopia management as the standard of care.
SiHy 1-Day: Silicone hydrogel contact lens materials and their ocular benefits for patients.
Toric Contact Lenses: Insights to help meet the needs of patients with astigmatism.
Multifocals: Multifocal contact lens education to maximize success when fitting patients with presbyopia.
Science of Contact Lenses: Insights into the science behind contact lenses to improve patient care.
Technicians, Opticians, and Staff: Training resources for staff, opticians, and eye care technicians.
Technology in the Eye Care Practice: Improving outcomes and practice success with technology.
Digital Device Use: Meeting the needs of modern lifestyles by helping address eye tiredness and dryness — two common symptoms associated with digital eye strain.
Sustainability in Practice: Embracing sustainable practices and products to do the most good for our planet — and grow a practice.
Webinars and Podcasts: Conversations in contact lens care with practitioners and industry thought leaders.
"The pandemic changed the dynamic for how ECPs prefer to consume educational content, with a shift toward online, on-demand training — and it seems that is here to stay," said Jennifer Palombi, OD, FAAO, Senior Manager of Professional Education and Development, CooperVision. "The ECP Viewpoints Online Success Center expands our suite of educational offerings to meet these evolving needs by delivering meaningful instruction for eye care providers who prefer to consume contact lens educational content at their own pace and on their own time."
Resources
* U.S. Indications for Use: MiSight 1 day (omafilcon A) soft (hydrophilic) contact lenses for daily wear are indicated for the correction of myopic ametropia and for slowing the progression of myopia in children with non-diseased eyes, who at the initiation of treatment are 8-12 years of age and have a refraction of -0.75 to -4.00 diopters (spherical equivalent) with ≤ 0.75 diopters of astigmatism. The lens is to be discarded after each removal.
† Compared to a single vision 1 day lens over a 3 year period.
1 Chamberlain P, et al. A 3-year Randomized Clinical Trial of MiSight Lenses for Myopia Control. Optom Vis Sci. 2019;96(8):556-567.