May 8, 2023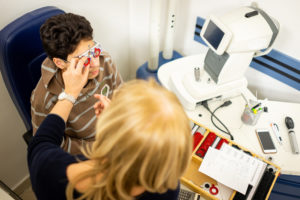 SAN RAMON, Calif. — CooperVision published a new white paper, including the expertise of nine internationally recognized pediatric ophthalmologists, which advocates for the importance of starting myopia interventions as early as possible.
The paper explores the evolution of myopia management as the standard of care, offers patient and parent education guidance, and provides insights into growing a successful myopia management practice. It also reviews the latest pharmacologic, optical, and behavioral interventions in the fast-growing sector.
The expert pediatric panel, representing clinical practice and academia, includes: Robert A. Clark, MD, Laura B. Enyedi, MD, K. David Epley, MD, Li Lian Foo, MD, Francisco Javier Hurtado, MD, Imran Jawaid, MD, Benjamin R. LaHood, MD, Christie L. Morse, MD, and Rupa K. Wong, MD.
"The resounding direction from this esteemed group affirms that treating myopia progression early and as close to onset is essential to lowering the risk for myopic pathology that may lead to permanent visual impairment," said Michele Andrews, OD, Vice President, Professional & Government Affairs, Americas, CooperVision. "Managing myopia progression in children increasingly requires mutual support from a spectrum of health care professionals: ophthalmologists, optometrists, pediatricians, nurse practitioners, and school nurses. We are encouraged by ophthalmology leaders recognizing this, taking action, and urging their colleagues to do the same."
The publication comes on the heels of CooperVision's new multifaceted consumer and professional outreach campaign to protect children's vision and advance myopia control education in the United States. The "Make Children's Sight Your Fight" initiative is rooted in new company-commissioned U.S. parent and eye care professional research, which shows progress in strengthening awareness and action, while also spotlighting opportunities to do more.
CooperVision's white paper can be downloaded here.